Places To Go
Kenai Fjords can be divided into three main areas; Exit Glacier, the coastal fjords, and the Harding Icefield. Each provides visitors with very different opportunities to experience and explore this place where mountains, ice, and ocean meet.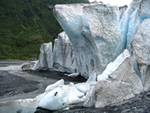 NPS Photo
Exit Glacier:
Exit Glacier
is the easiest part of the park to access. Short trails to Exit Glacier's terminus,
ranger programs
, and interpretive displays make it a popular day use area.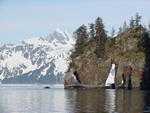 NPS Photo
The Coast: Boat tours and kayaks are great ways to experience the park's backcountry coastline, tidewater glaciers, and marine wildlife.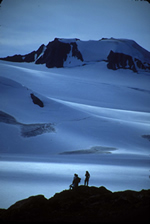 © Ron Niebrugge—www.wildnatureimages.com
The Harding Icefield: This is the park's dominant feature. It is somewhat harder to access, but a scenic overflight gives you a sense of its vast size and hikers can get great views from the Harding Icefield Trail.


Did You Know?

With 570,374 square miles, Alaska is twice the size of Texas and 1/5 the size of the rest of the United States. It stretches 2,400 miles east-to-west and 1,420 miles north-to-south. Its 6,640-mile coastline is 50 percent longer than the combined east and west coasts of the United States.