Kayaking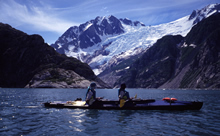 © Peter Fitzmaurice
Traveling with a guide is strongly recommended for inexperienced paddlers. The fjords are exposed to the Gulf of Alaska, with only a few protected coves. These are not waters for beginners! Landings often involve surf, particularly when afternoon breezes kick up from the south. Wind and rainfall can be excessive, and summer storms often push an ocean swell of three feet or more into the fjords.
Most kayakers access the park by water taxi or charter boat from Seward and get dropped off in Aialik Bay or Northwestern Lagoon. Another alternative is to fly in to the less-visited Nuka Bay area from Homer. Paddling directly from Seward is okay for day trips in Resurrection Bay or overnight visits to Caines Head or Bear Glacier, but rounding Aialik Cape in a kayak is not recommended. There are long stretches of exposed coastline with no landing sites between Callisto Head and Aialik Cape, and the waters around the Cape can be extremely treacherous.


Did You Know?

Even though the road to Exit Glacier in Kenai Fjords National Park is closed to cars during the winter months, you can visit Exit Glacier in winter by skis, dogsled, snowshoes, or snowmobiles. More...