Air Taxi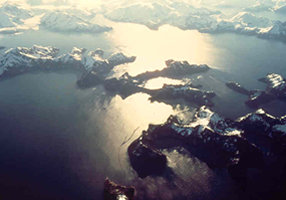 NPS Photo
Air taxi services will drop you off and pick you up in the park. Planes may be equipped with floats, wheels for beach landings, or skis for landing on the Harding Icefield. Some planes are large enough to carry kayaks or small boats.
Many air taxi operators also offer scenic overflights, but operators that solely offer Flightseeing Tours may not be listed here since air taxi services only require a permit if they land in the park.
Helicopters are not allowed to land within the park except under terms of a special permit generally issued for research or emergency response.
High Adventure Air Charter Inc.
P.O. Box 486 Soldotna AK 99669
phone: (907)262-5237
fax: (907)262-6566
email: haac@alaska.net
internet: www.highadventureair.com
Northwind Aviation
P.O. Box 646 Homer AK 99603
phone: (907) 235-7482
fax: (907) 235-7482
email: northwind@ptialaska.net
Talon Air Service, Inc.
P.O. Box 1109 Soldotna AK 99669
phone:(907)262-8899
fax: (907)262-5452
email: talonair@alaska.net
internet: www.talonair.com
Trail Ridge Air, Inc.
P.O. Box 111377, Anchorage AK 99511
phone:(907)248-0838
fax: (907) 248-2658
email: jim@trailridgeair.com
internet: www.trailridgeair.com


Did You Know?

The Hoary Marmot is the largest member of the ground squirrels. These guys hibernate half or more of their life away. They have very thick fur and a substantial fat layer that protects them from the cold. You are not as likely to see them on hot days as they hide in the shade to keep cool.