Flight Seeing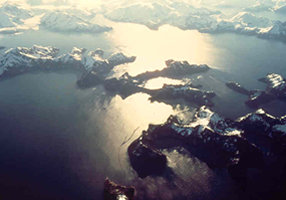 NPS Photo
Visit the Seward Chamber of Commerce for a list of operators that offer scenic overflights of the park. Flightseeing is one of the best ways to get a sense of the vastness of the Harding Icefield. Soaring over this expanse of ice broken only by isolated mountain peaks, or nunataks, is like traveling back to the Pleistocene.
Overflights also provide dramatic views of the park's glaciers, fjords, and wildlife. You may catch a glimpse of a mountain goat traversing a rocky ledge or peer down at a brown bear fishing in salmon choked streams.


Did You Know?

"Killer whales" or orcas are actually quite friendly and often inquisitive about humans. In fact, the group of "resident killer whales" pictured here feeds entirely on fish. Only "transient killer whales" eat marine mammals. No wild killer whale has ever hurt a human being.