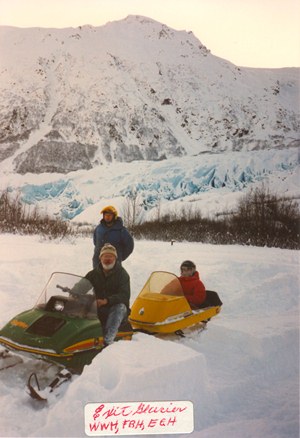 NPS Photo
Exit Glacier

The Exit Glacier area of Kenai Fjords National Park is the most publicly accessible part of park and the only portion that is accessible by road from the town of Seward. A number of individuals and families from the Seward area visit the Exit Glacier area in the course of recreational and resource harvesting activities within the park and the greater Resurrection River Valley.
Prior to the establishment of the park in 1980, this area was used for various activities including, hunting, guiding, berry picking, snow machining, horseback riding, snow shoeing, skiing, hiking, and gold mining. The importance of the area's resources played an important part in the quality of life experienced by nearby Seward residents.
A series of interviews were held in recent years with an exceptional group of men and women who used the Exit Glacier area prior to the establishment of Kenai Fjords National Park. While the activities they participated in may have been distinct, they all shared a common appreciation for the land and its resources. The wealth of their knowledge speaks to the kinds of joys and struggles experienced by today's visitors to the Exit Glacier area.
These interviews are accessible at .
To learn more about the project and what was learned from it, see .