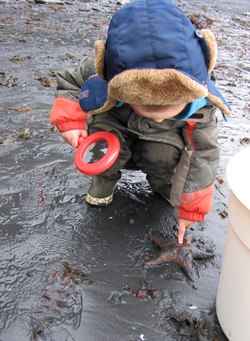 NPS Photo
Marine Programs
Tidepool Trekking
for K-2nd grades
This program begins with a 40 minute classroom discussion of tides and tide pool etiquette followed by a 90 minute hands-on exploration of the local intertidal ecosystem of Lowell Point State Park. Offered through cooperation with the state park, a national park ranger guides students in a safe -for both creatures and students- and fun encounter with the invertebrates of the intertidal. Due to the fragility of the Lowell Point Ecosystem this program is offered on a limited basis.
Spring - Classroom & Beach
Beach Ecosystems for 2nd & 3rd grades
A 75 minute trip to Seward's Fourth of July Beach will reveal living and non-living wonders of the local ecosystem. Students will learn about plankton, tides, algae, marine mammals, invertebrates, fresh and salt water and how these things interact in the ecosystem. This program also emphasizes biodiversity and our role as stewards to these places.
Getting to Know Algae
for 5th & 6th grades
Students will visit Fourth of July Beach at low tide and look at algae that feed, protect and cover the intertidal ecosystem. This is a great 1.5 hour lesson for those looking at classification, because some algae still baffle scientists as to their exact origins. Students will examine several species of algae from three readily available phlya.
Piecing Together the Fjord Estuary Ecosystem Puzzle
for 5th-7th grades
A 2 hour walk along Seward's waterfront gives students a look into past glacialogy, and present day estuary dynamics. Student groups will have a backpack of supplies to aid in their observations of the area. Participants will be asked to consider essential questions such as: How does geology influence human land use in the Resurrection Bay area? Students' observations can be used to fuel further discussion or a project in the classroom.