Things To Do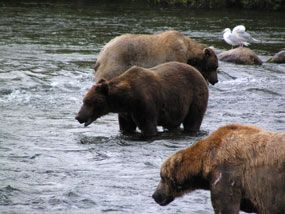 NPS Photo by Tamara Olson
Originally established in 1918 to protect the site of the 1912 Novarupta eruption, Katmai offers premier bear viewing, world-class sport fishing, and the opportunity to explore more than four million acres of wilderness by boat or on foot.
Hunting is only allowed in the preserve area of Katmai. For current regulations and hunting dates in the preserve, check with the Alaska Department of Fish and Game.

Did You Know?

In 1918, the scarcity of beef caused many Alaskans to call for the repeal of all legal protection for bears. Katmai park promoters were cautioned,"the word bear should never be mentioned in connection with establishing a National Monument." Ironically, today visitors flock here to view bears.