NPS/M. Fitz
Since the early days of the National Park Service, rangers have shared their knowledge through programs and presentations like guided walks, talks, and campfire programs. Today, that long-standing tradition continues. Ranger-led programs are a great way to learn about and experience Katmai. Programs are offered at
Brooks Camp
from June 7-September 17. Live chats on the web are offered year-round.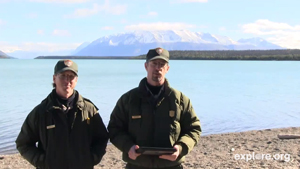 Live Chats
You don't have to visit Katmai to join our programs! Rangers at Katmai present video and text chats throughout the year on a variety of topics, especially bears. Follow us on
Katmai's social media sites
for dates, times, and topics.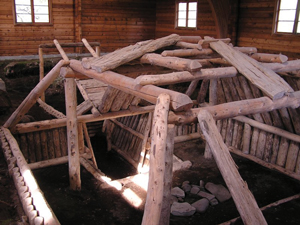 Cultural Walk
Katmai's landscape has been home to people for thousands of years and you are invited to explore the human side of the Brooks River.
The Brooks River area is both a National Historic Landmark and a National Register of Historic Places Archeological District. With over 900 house depressions near the river, this is one of the most densely concentrated archeological areas in North America.
This walk follows an easy 1/4 mile trail to a reconstructed traditional Native home and explores the human history hidden along the river and in the forest.
Where:
Brooks Camp Visitor Center
When:
2 PM Daily from June 7 to September 17
Distance:
.5 mile (.8 km) round trip
Difficultly:
Easy
Time:
45 minutes to 1 hour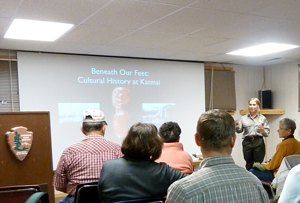 Evening Program
Join a park ranger for an illustrated talk in the Brooks Camp Auditorium. Each night, this program offers unique perspectives, stories, and information on Katmai National Park.
Where:
Brooks Camp Auditorium
When:
8 PM Daily from June 7 to September 17
Time:
45 minutes to 1 hour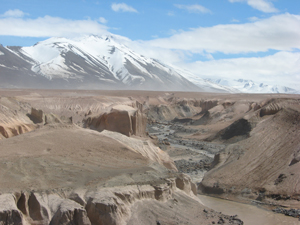 Valley of Ten Thousand Smokes Bus Tour
On June 6, 1912 Novarupta Volcano exploded resulting in the largest volcanic eruption of the 20th century. The eruption was so violent that the summit of Mount Katmai collapsed, villages were abandoned, and explosions were heard as far away as Juneau. In the wake of this violence, hardy adventurers and scientists discovered the Valley of Ten Thousand Smokes, a spectacular forty square mile ash flow.
You can explore Katmai's volcanic landscape on this day-long tour. The road to the Valley crosses three streams before arriving at the Robert F. Griggs Visitor Center. After a break for lunch, a ranger leads an optional hike down to the Valley floor. The hike covers three miles (4.8 km) round trip with 800 feet (244 m) of elevation change.
A fee is charged for this tour and reservations are required. Reservations can be made at Brooks Lodge and through the park's concessionaire,
Katmailand, Inc
. Be sure to bring water, hiking boots, rain gear, and warm clothing.
Where: Lower River Platform
When: 9 AM Daily from June 7 to September 17
Distance: 46 mile (73.6 km) bus trip and 3 mile (4.8 km) hike
Difficulty: Easy bus trip and moderate hike
Time: 7 hours