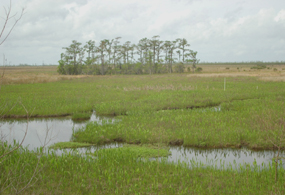 The National Park Service is committed to involving the public in its decisions on managing park resources. Links to any current public discussions are shown on this page.
You can also become part of the Jean Lafitte team by volunteering at the park.
---
Jean Lafitte and the National Park Service are considering actions at the park's Barataria Preserve and Chalmette Battlefield to manage wildland fire and use prescribed, controlled burns to manage vegetation. Proposals are now available for public comment.
There are two alternatives:
"no action" (continue with the current plan which does NOT include prescribed, controlled burns)
update the fire management plan.

The update would do two things. First, it would include approximately 3,000 acres of land acquired in 2009 into the park's Fire Management Plan (the plan was written before this land was acquired). Second, it would allow prescribed fire to be part of the "toolbox" for managing resources at the Barataria Preserve and Chalmette Battlefield.
You can read more about the plans and comment on them here. Click on "Document List" to read the proposal.
The deadline for comments is Tuesday, September 15. Note that you do not have to include your address, phone number, email address, and other information in your comment, but if you do, this information may be made available to the public at any time. You can request in your comment that the park withholds this information, but the park cannot guarantee that it will be able to do so.
Email the park or call 504-589-3882 ext. 119 for a printed copy of the proposal documents or if you have questions on this process.
---
A project to reclaim more than 20 miles of canals at the Barataria Preserve began in late spring 2010. Canals will be backfilled depending on funding availability, and the majority of the project remains unfunded. The environmentally sound methods used to fill the canals will work slowly and most will remain open for decades. Special care will be taken with regularly used canals so that users will continue to have access. For an overview of the project and the challenges of managing wetland areas, click
here
. For indepth information, visit the
project page.
---
In summer 2010, Jean Lafitte was included in the National System of Marine Protected Areas (MPA). The system
helps protect American marine resources by providing new opportunities for regional and national cooperation
supports the local and national economy by helping to sustain fisheries and maintain healthy marine ecosystems for tourism and recreation
promotes public participation in MPA decision-making
Inclusion in the MPA system will not change the way the park is currently managed. Fishing, hunting, and trapping will still be allowed in the Barataria Preserve.
Being part of the MPA system will benefit Jean Lafitte by emphasizing its role in Louisiana's valuable coastal ecosystems. It will also help to provide for enhanced stewardship of park resources and new partnerships among federal, state, and MPA sites. Southeast Louisiana sites already in the MPA include Big Branch Marsh National Wildlife Refuge, Breton National Wildlife Refuge, and Delta National Wildlife Refuge.