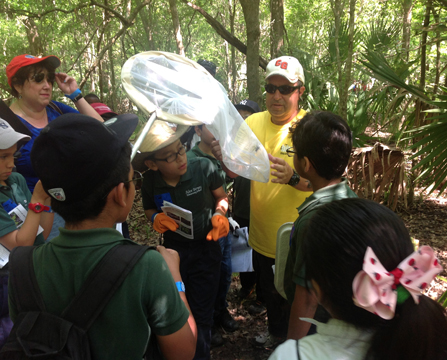 SPECIAL VOLUNTEER PROJECT: Jean Lafitte is seeking volunteers (groups, families, and individuals) for the HOPE Project, which will clean, realign, and document the more than 14,000 headstones of Chalmette National Cemetery. The project happens March 7 through April 1; read more about it and find out how to sign up here.
---
NOTE TO PROSPECTIVE VOLUNTEERS: Although at the bottom of the page it may state that there are currently no volunteer opportunities, that just means that no opportunities are currently listed with the volunteers.gov system.
No matter what your skills or interests, there's probably a place for you in the VIP (Volunteer In Parks) program at Jean Lafitte National Historical Park and Preserve. Current Jean Lafitte VIP projects include

Helping with programs for children and adults

Music and craft demonstrations
Teaching Cajun dancing
Working behind the scenes or as a living history reenactor during the annual Battle of New Orleans commemoration
Carpentry and landscaping projects
Working with the park library and museum collections
Trail maintenance
Assisting with visitor center operations
Taking pictures or video of park programs and events
For more information, call the site where you would like to work (see the plan your visit page for site information) or email the park. Your volunteer job may require training, which will be provided by the park, and uniforms may be provided for long-term volunteers.
To find out what's new with Jean Lafitte's crew, keep in touch via park social media.
Project days which require little training and a minimum time commitment are regularly scheduled at some Jean Lafitte sites. Volunteers might help staff a park booth at a festival, dig out invasive plants, or take photographs during an event. Group projects can also be arranged (for group project inspiration, read about the summer 2012 volunteer projects by members of the 2012 Evangelical Lutheran Church in America Youth Gathering here).
Jean Lafitte volunteers make a difference every day: in 2015, over 1,100 volunteers donated over 16,000 hours of work (and had lots of fun doing it!).
Equal Opportunity Policy: Jean Lafitte National Historical Park and Park and Preserve is committed to a strong nondiscrimination policy respecting its employees and volunteers. Its policy is to provide equal opportunities for all and to eliminate discrimination based on sex (including sexual harassment and sexual orientation), race, color, national origin, religion, age, and disability.
Current Volunteer Opportunities