Yams or Sweet Potatoes
Enslaved Africans enjoyed the New World sweet potato much as they did the closely-related yam, a native root crop of West Africa.
Did You Know?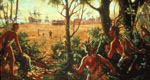 The land the English settled in 1607 was already home to more than thirty Powhatan Indian tribes. Each tribe had its own chief (weroance/weroansqua) who was "ruled" by paramount chief (mamanatowick) Powhatan. This Powhatan Chiefdom spanned all of tidewater Virginia and parts of the Eastern Shore. More...