Wolves - an Ecological Study
The wolves and moose of Isle Royale are known world-wide, and they are the focus of the longest-running study of a predator-prey system in the wild (over 50 years and ongoing). Both species are relatively recent arrivals to Isle Royale -- moose apparently swam to the island and established a population in the early 1900s, and wolves followed decades later after traveling over the ice from Ontario, Canada in the late 1940s. Annual monitoring of wolves and moose began in 1958 when Durward Allen of Purdue University began an ambitious "10-year" study of the wolf-moose relationship. This study continues today, under the direction of John Vucetich and Rolf Peterson of Michigan Technological University. There are several ways to participate in this research; to learn more,
click here
, and go to "We Need Your Help". At this site you can also find comprehensive information on wolves and moose, and other results from this long-term research.
Did You Know?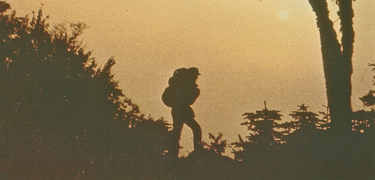 Although the yearly number of visitors to Isle Royale is less than Yellowstone receives in a day, the Island's per acre backcountry use is the highest of all National Parks in the United States.