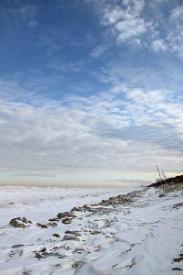 NPS - Katrina George
The national lakeshore's weather is greatly affected by Lake Michigan and can change quickly. Summers are warm and humid with high temperatures generally in the mid-80sºF (30C) and low temperatures in the mid-60sºF (18C). There are about 15 days per year above 90ºF (32C). Warm periods are occasionally interrupted by frontal action descending from Canada. This generally brings days of pleasant, dry weather. Sunshine is abundant in summer. Highs in winter are usually in the low to mid 30sºF (0C) with low temperatures in the low 20sºF (-5C). There are about 15 days per year below 0ºF (-18C). Winters tend to be cloudy except for periods of extreme cold when skies are clear.
---
Current Weather Conditions
For a current weather forecast choose an Internet weather provider and use the following zip codes for the section of the park you are interested in.
National Weather Service for Mount Baldy, Central Beach, and other eastern locations - Michigan City 46360
National Weather Service for Dunewood Campground, Lake View, Kemil Beach, Chellberg Farm, and Bailly Homestead - Beverly Shores 46301 and Chesterton 46304
National Weather Service for West Beach, Paul H. Douglas Center, Miller Woods, Tolleston Dunes, and other western locations - Gary 46403