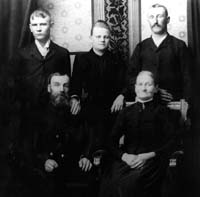 The Chellberg Family
Let's begin our tour by learning about the Chellberg family.
Anders and Johanna Chellberg, with their young son Charles, made the long journey from Sweden to this country in 1863. Traveling first by boat and then by train, the Chellbergs arrived here four months after their departure from Sweden. After their arrival in northwest Indiana, the Chellbergs became part of a growing Swedish community. They often gave other immigrants a place to stay and helped them find work. In 1869, the Chellbergs purchased 40 acres of land and established their own farm. Forty additional acres had been added to the farm by 1874.
Anders and Johanna had four children. After Ander's death in 1893, their son Charles managed the farm. Charles and his wife, Ottomina, had four children: Frank, who died when he was a year old, Ruth, Naomi, and Carl. When Charles died in 1937, his son Carl continued to farm until 1972, when he sold the property to the National Park Service. Let's continue our tour by looking at where the Chellbergs lived.