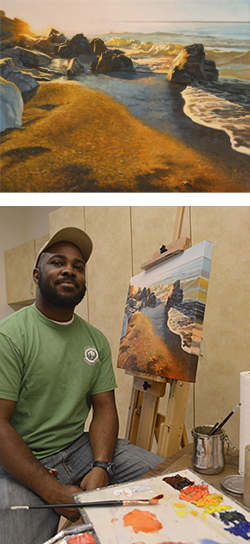 2013 Artist-in-Residence, Steven Walker
Born in Myrtle Beach, South Carolina and raised in Richmond, Virginia, Steven has been captivated by art for most of his life. He earned his bachelor's degree at Virginia Commonwealth University with a concentration in illustration. After only a few years as a freelance illustrator, Steven earned his master's degree at Marywood University and began focusing his efforts towards fine art.
After a string of small shows at coffee shops and libraries his focus turned to gallery exhibition. Since his venture into gallery life, his landscapes have been well received by collectors. His paintings are part of several private collections such as Hilton Hotels, the Boy Scouts of America, Dominion Resources and the United States Air Force.
Steven has been included in several local and national juried competitions including the Richeson 75 Landscape Competition, the American Landscape competition in Maryland, several juried shows throughout Ohio and Virginia, the International Salon Competition and most recently, the Oil Painters of America Salon. Steven also had the privilege of being a part of a statewide traveling exhibition with the Virginia Museum of Fine Art. Recently he's participated in several artist in residency programs in Michigan and Iowa through the National Parks Service.
Steven, with the assistance of his lovely wife Evelyn, continues to work hard in the advancement of his career. Currently, his work is represented by the B. Deemer Gallery in Louisville, KY, The Sharon Weiss Gallery in Columbus, OH, the Vision Gallery in Atlantic Beach, NC, and the Glave Kocen Gallery in Richmond, VA.