Visiting the Benjamin Franklin Museum
Explore Franklin's life and character in the Benjamin Franklin Museum. The museum features artifacts, computer animations, and interactive displays. The exhibits are geared toward visitors of all ages, with displays that are educational, challenging, and fun.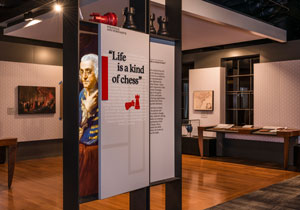 NPS photo
Location

The Benjamin Franklin Museum is located in Franklin Court. Entrance to the courtyard is from Market or Chestnut Streets, between 3rd and 4th Streets.
Hours

Open daily from 9:00 a.m. to 5:00 p.m.
Museum will be closed: Thanksgiving Day, Christmas Day and New Year's Day

Fees

$5.00 for adults
$2.00 for children, ages 4 through 16
Children ages 3 and under are FREE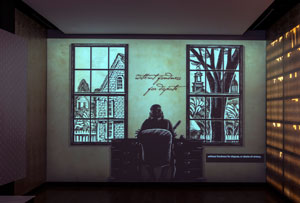 NPS photo
Ticketing

Tickets are available at the door and must be purchased on the day of your visit. There are a limited number of tickets available each day. Plan to allow at least one hour for your visit. Last entrance to the museum will be at 4:15 p.m. The America the Beautiful Annual Pass, Senior Pass and Access Pass do not apply at the Benjamin Franklin Museum.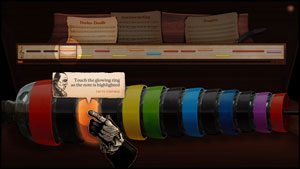 NPS photo
School groups (grades K-12)

School groups are eligible for FREE admission to the museum. Teachers must bring a signed letter on school letterhead requesting a fee waiver. Adult chaperones will also be admitted free at the ratio of 1:10 students. Additional chaperones must pay admission to the museum.
For school group reservations, please call 215-597-7122 (Monday through Friday, from 9:30 a.m. to 4:30 p.m.) at least two weeks prior to your visit. Reservations are not required, but are recommended. There is a limit of 100 student tickets reserved for each hour.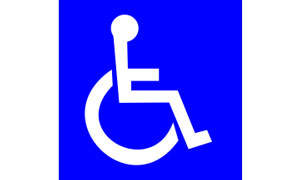 Accessibility

The Benjamin Franklin Museum is fully accessible for visitors with mobility impairments. An elevator allows visitors to access the museum. There are also accessible restrooms located on the lower level. An audio described tour of the museum will be available this spring. Tactile objects are located throughout the exhibit area.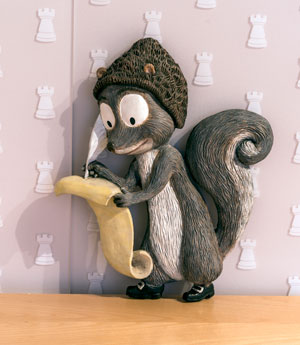 NPS photo
Family guide

Families will find an able guide to the museum in Skuggs the Squirrel. Franklin delighted in pet squirrels, or skuggs as they were known in his day. Skuggs will provide clues for families exploring the museum on the path of curiosity, the path of a hard worker, or the path of a team player. Make sure you bring your camera for this family adventure.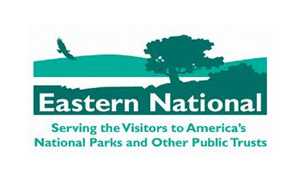 Benjamin Franklin Museum Store

The Benjamin Franklin Museum Store, operated by Eastern National, is located on the courtyard level of the museum. The store offers a wide variety of commemorative items, apparel, books, and other merchandise related to Franklin and colonial Philadelphia.
Do you know Bejamin Franklin? This short video highlights the new Benjamin Franklin Museum, opening August 24. 2013. For closed captions, please visit the following page: http://youtu.be/QT22TSrjjdo

Duration:

1 minute, 1 second

Credit / Author:

National Park Service

Date created:

2013-08-20
Did You Know?

Did you know the Army, Navy and Marine Corps were founded at Independence Hall throughout the year 1775? The Continental Congress passed resolutions founding the Continental forces in June, October and November of 1775.