Sheep Is Life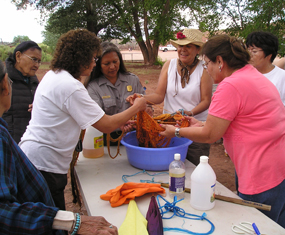 NPS Photograph
JULY 2014 - "SHEEP TO RUG" WORKSHOP
Hubbell Trading Post National Historic Site hosts Sheep-Lifeway workshops each summer. The next workshop will be in July of 2014.
The Navajo Nation's Sheep Is Life program was started in the 1980s with annual conferences beginning in 1996. Dine Be' Iina will conduct their 2014 conference in Tsaile, Arizona. Smaller, "local" workshops of the SIL program began in 2000 to bring producer/livestock education, fiber arts and animal husbandry experiences into the local Navajo communities and to share the knowledge with other interested visitors.

At the Hubbell workshop you will learn the role Churro sheep play in Navajo culture and meet the Hubbell Trading Post NHS Navajo Churro sheep. Hands-on learning will include, dyeing, spinning, and weaving.
Bring your wool projects to share with other participants and a picnic lunch to enjoy in the shade of the cottonwood trees.
Did You Know?

In 1974 this exact copy Navajo rug (HUTR 4207)was woven to replace the Navajo rug on the floor in the Hubbell family home dining room (HUTR 3237). Look up both rugs in the Hubbell Museum Collection database. More...