Seasonal Operating Hours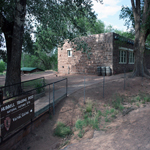 NPS photo.
Hubbell Trading Post NHS Visitor Center is open:
Year round park hours: 8:00 a.m. to 5:00 p.m.

Update News Release: Temporary Closure of Hubbell Visitor Center for Installation of New Interpretive Exhibit
Ganado, AZ –Hubbell Trading Post National Historic Site will be preparing for the installation of a new interpretive exhibit inside the Visitor Center.The Visitor Center will be closed starting Sunday, March 1, 2015 for construction work and for the installation of the new interpretive exhibit. The visitor center will re-open late May 2015.
The Trading Post operations and tours of Hubbell Home will remain open and available to the public during regular business hours. During the temporary closure of the visitor center staff will provide park brochures, information, and orientation and sell park related publications and sales for tour fees of the Hubbell Home at the Trading Post.
Tours of the Hubbell Home will continue to be conducted for a fee of $2.00 per person over the age of 15.
This announcement overrides the previous notice. We apologize for any inconvenience this may cause. For current and up to date information, please contact the park at 928-755-3475 X228 or email e-mail us .
The Park and Store are closed Thanksgiving, Christmas & New Year's Day.
Enjoy your visit!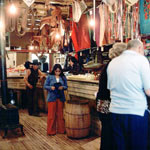 NPS Photo
Hubbell Trading Post Store is open:
Store operating hours starting October 12, 2014: 8:00 a.m. - 5:00 p.m. daily.