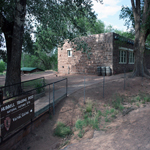 NPS photo.
Hubbell Trading Post NHS Visitor Center has moved into the Trading Post!
Summer Hours starts April 26, 2015: 8:00 a.m. to 6:00 p.m.
The Park and Store are closed Thanksgiving, Christmas & New Year's Day.

Update News Release: Temporary Closure of Hubbell Visitor Center for Installation of New Interpretive Exhibit
Ganado, AZ – Hubbell Trading Post NHS will continue to provide visitor services and interpretive programming during the closure of the park's visitor center. Tours of the Hubbell Home will continue for a fee of $2.00 per person over the age of 15. Sales of park publications will take place in the trading post. The closure allows for the renovation and the installation of a new interpretive exhibit. Please contact the park at 928.755.3475 for current and up to date information regarding the opening of the park's new interpretive exhibit. The visitor center will close on February 22, 2015 and reopen early July.
This announcement overrides the previous notice. We apologize for any inconvenience this may cause.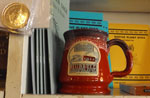 NPS - LHenio
Hubbell Trading Post Park Store is open for business:
Summer Hours: April 26, 2015 8:00 a.m. - 6:00 p.m. daily
Upon your entrance into the Trading Post, the park store (book store) is now located on the right-hand side. Now you can purchase your books and other items along with your groceries. Do not forget to become a Western National Park Association member and get 15% off your parkstore purchases. The discount does not apply to Arts and Crafts, and groceries.
Look for new items on the shelf: National Park Service 100th Anniversary Calendar, I Saw Journal for kids, and a new Tote Bag to carry all your purchases.

NPS Photo
Hubbell Trading Post
Summer Hours begin April 26, 2015: 8:00 a.m. to 6:00 p.m.
For over 100 years, community members and visitors to Ganado patron Hubbell Trading Post. Here you purchased groceries, dry goods, sold your crafts, and livestock. Today you still have a few of these items and much more. Are you looking for a warm gloves? How about dishes? A gift for the family? Or a new Navajo wool woven rug for your wall? You can get all of these at Hubbell. Stop by and experience a traditional trading post.