Seasonal Operating Hours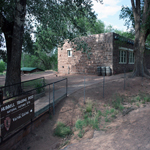 NPS photo.
Hubbell Trading Post NHS Visitor Center is open:
Year round park hours: 8:00 a.m. to 5:00 p.m.
**Please note the Navajo Nation observes Mountain DAYLIGHT SAVING Time from March through the end of October while the rest of Arizona observes Mountain STANDARD Time. When it is 1 p.m. in Flagstaff, Arizona it is 2 p.m. at Hubbell Trading Post.**
The Park and Store are closed Thanksgiving, Christmas & New Year's Day.
Enjoy your visit!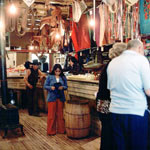 NPS Photo
Hubbell Trading Post Store is open:
Store operating hours: 8:00 a.m. - 6:00 p.m. daily from April 20 into October 2014.


Did You Know?

One hundred and sixty acres make up the Hubbell Trading Post homestead in Ganado Valley. J.L.Hubbell set up his business here in 1878, acquiring the original building from William Leonard. More...