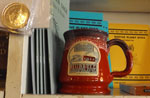 NPS - LHenio
Hubbell Trading Post Park Store
Summer Hours: 8:00 a.m. - 6:00 p.m.
Upon your entrance into the Trading Post, the park store (book store) is now located on the right-hand side. Now you can purchase your books and other items along with your groceries. Do not forget to become a Western National Park Association member and get 15% off your parkstore purchases. The discount does not apply to Arts and Crafts, and groceries.
Look for new items on the shelf: National Park Service 100th Anniversary Calendar, I Saw Journal for kids, and a new Tote Bag to carry all your purchases.

NPS Photo
Hubbell Trading Post
Summer Hours: 8:00 a.m. to 6:00 p.m.
For over 100 years, community members and visitors to Ganado patron Hubbell Trading Post. Here you purchased groceries, dry goods, sold your crafts, and livestock. Today you still have a few of these items and much more. Are you looking for a warm gloves? How about dishes? A gift for the family? Or a new Navajo wool woven rug for your wall? You can get all of these at Hubbell. Stop by and experience a traditional trading post.