Seasonal Operating Hours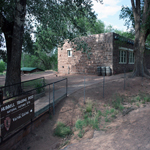 NPS photo.
Hubbell Trading Post NHS Visitor Center is open:
Winter park hours: 8 a.m. - 5 p.m. daily from September 30-April 27.

Summer park hours are 8 a.m. - 6 p.m. daily from April 28 to September 29.
**Please note the Navajo Nation observes Mountain DAYLIGHT SAVING Time from March through the end of October while the rest of Arizona observes Mountain STANDARD Time. When it is 1 p.m. in Flagstaff, Arizona it is 2 p.m. at Hubbell Trading Post.**
The Park and Store are closed Thanksgiving, Christmas & New Year's Day.
Enjoy your visit!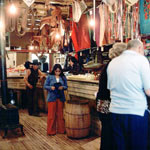 NPS Photo
Hubbell Trading Post Store is open:
Winter store hours: 9:00 a.m. - 5:00 p.m. daily


Did You Know?

Hubbell Trading Post's museum collection contains 112 Hopi pots, 170 Navajo rugs, over 60 Navajo concho belts, 275 historic paintings, over 300 artistic drawings, 40 sculptures and thousands of historic and archeological artifacts. More...