Seasonal Operating Hours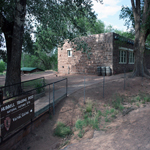 NPS photo.
Hubbell Trading Post NHS Visitor Center is open:
Summer park hours: 8:00 a.m. to 5:00 p.m. daily from April 20, 2014 into October 2014.
Winter park hours: 8 a.m. - 5 p.m.
**Please note the Navajo Nation observes Mountain DAYLIGHT SAVING Time from March through the end of October while the rest of Arizona observes Mountain STANDARD Time. When it is 1 p.m. in Flagstaff, Arizona it is 2 p.m. at Hubbell Trading Post.**
The Park and Store are closed Thanksgiving, Christmas & New Year's Day.
Enjoy your visit!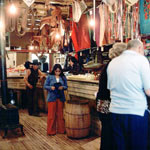 NPS Photo
Hubbell Trading Post Store is open:
Store operating hours: 8:00 a.m. - 6:00 p.m. daily from April 20 into October.


Did You Know?
Friends of Hubbell Trading Post NHS conduct two Native American Arts and Crafts Auctions yearly.