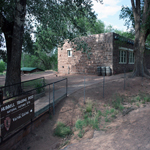 NPS photo.
Hubbell Trading Post NHS Visitor Center has moved into the Trading Post!
Summer Hours starts April 26, 2015: 8:00 a.m. to 6:00 p.m.
Year round park hours: 8:00 a.m. to 5:00 p.m.

The Park and Store are closed Thanksgiving, Christmas & New Year's Day.

Update News Release: Temporary Closure of Hubbell Visitor Center for Installation of New Interpretive Exhibit
Ganado, AZ – Hubbell Trading Post NHS will continue to provide visitor services and interpretive programming during the closure of the park's visitor center. Tours of the Hubbell Home will continue for a fee of $2.00 per person over the age of 15. Sales of park publications will take place in the trading post. The closure allows for the renovation and the installation of a new interpretive exhibit. Please contact the park at 928.755.3475 for current and up to date information regarding the opening of the park's new interpretive exhibit. The visitor center will close on February 22, 2015 and reopen early July.
This announcement overrides the previous notice. We apologize for any inconvenience this may cause.