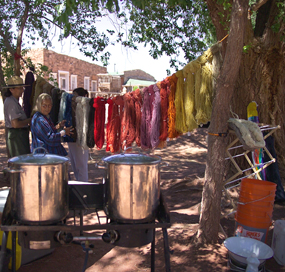 NPS PHOTO
SHEEP, WOOL AND WEAVING WORKSHOP
Every July
Each summer the staff at Hubbell host a special "Sheep Lifeways" workshop. The next workshop will be in July of 2016. Call 928-755-3475 for details.
At the Hubbell workshop you will learn the role Churro sheep play in Navajo culture and meet the Hubbell Trading Post NHS Navajo Churro sheep. Hands-on learning will include, dyeing, spinning, and weaving.

Bring a picnic lunch to enjoy in the shade of the cottonwood trees and your wool projects to share with other participants.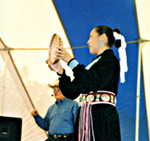 NPS photo.
NATIVE AMERICAN ART AND CRAFT AUCTION
The Friends of Hubbell Trading Post NHS, INC. in partnership with the National Park Service has hosted the Native American Arts Auctions each year. The Auctions are held twice a year, May and October.
This special event provides an opportunity for the buyer to meet the artisans and it allows for all visitors to gather and meet with friends and make new ones. Please mark your calendar, next Auctions are on May 7, 2016 and October 8, 2016.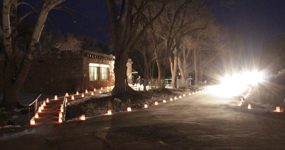 NPS photo by E.Chamberlin.
DECEMBER LUMINARIA NIGHT
December 1, 2016
Over 700 luminaries will be placed on the grounds of the National Historic Site and their candles lit for this annual holiday celebration. The Spanish words luminaries and farrolito mean little lights or flames. This Hispanic tradition is widely practiced in New Mexico and has been presented at Hubbell Trading Post each December since the early 1990s.