RFP for Maurice and Libbey Bathhouses

Requests for Proposals for the Maurice and Libbey Bathhouses are being accepted from 7/7/14 to 1/30/15. Click on the "Management" link in the left column for more information.
Elevator closure

Hot Springs National Park regrets to announce that the elevator in the Fordyce Visitor Center is closed for maintenance. The upper and lower levels are accessible only by stairways. The elevator will be placed back into service in about 4 to 6 weeks.
Closure of Happy Hollow Spring Fountain

Happy Hollow jug fountains, (located on Fountain Street), will be closed Wednesday morning (08/27/14) for maintenance. Hours of closure will be 8:00 til noon.
Traditional Baths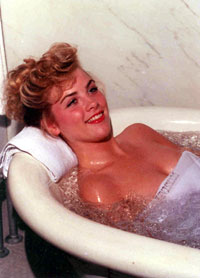 Courtesy of Buckstaff Baths
A regimented bathing routine was established in the 1800s according to the tradition of the European spas. This routine is still used at most of the bathhouses today. You may decline any portions you do not wish to have. This is the experience at the Buckstaff Bathhouse.
1. Purchase a bath ticket and lock your valuables in a security box.
2. You will be guided to the dressing room where an attendant provides a bathsheet for you to wear.
3. In the bath halls, you have a private bath tub which your attendant has cleaned and filled with fresh 98-100-degree water. The tubs are large enough for you to stretch out and you soak for 20 minutes. You may purchase a personal luffa bath mitt for a back scrub if desired.
4. Full steam cabinets (two minutes) or head-out cabinets (five minutes) can benefit lung or sinus conditions.
5. Sitz (sitting) tubs filled with 108-degree water for ten minutes are great for problems and pains in the lower back.
6. Applications of hot packs (up to four for twenty minutes) provide heat therapy for specific aches or pains.
7. The two-minute cool-down shower is a refreshing, tingling experience.
8. A full-body Swedish massage lasting twenty minutes or more is optional and costs extra.


Did You Know?

On June 10, 1936, President and Mrs. Franklin D. Roosevelt visited Hot Springs National Park and toured the Fordyce Bathhouse as part of the Arkansas centennial celebration. FDR used the baths at Warm Springs, Georgia, on a regular basis to relieve his polio. He never bathed in Hot Springs.