RFP for Maurice and Libbey Bathhouses

Requests for Proposals for the Maurice and Libbey Bathhouses are being accepted from 7/7/14 to 1/30/15. Click on the "Management" link in the left column for more information.
Elevator closure

Hot Springs National Park regrets to announce that the elevator in the Fordyce Visitor Center is closed for maintenance. The upper and lower levels are accessible only by stairways. The elevator will be placed back into service in about 4 to 6 weeks.
Return of the Quapaw Bathhouse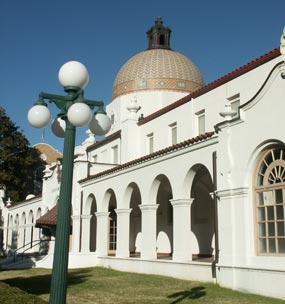 Joe Herron
A Brief History of the Quapaw Bathhouse
The Quapaw sits on the site of two previous bathhouses, the Horseshoe and Magnesia. This bathhouse was erected in 1922 and named after an American Indian tribe that once held land in the area. The Quapaw was built in a Spanish Colonial Revival style with a large tile covered dome that is one of the most recognizable features of historic Bathhouse Row.
The bathing industry in Hot Springs declined after World War II largely due to modern medicine. The Quapaw closed its doors in 1968. It would reopen a year later as Health Services, Inc., but close again in 1984.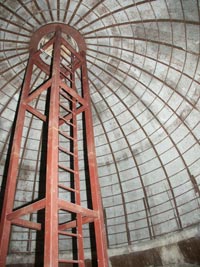 Gail Sears
Rehabilitation
In 2004, the National Park Service began a new phase of rehabilitation of the six unoccupied bathhouses on Bathhouse Row. For the Quapaw this included a new roof, skylights, and HVAC system. The cupola was removed from the top of the dome for repairs while a new compression ring was installed. This compression ring was attached to a steel and concrete ladder system which provides support for the dome. In the basement, large catch basins were built to collect and divert the spring water that would often seep onto the basement floor. While many of the structural problems had been fixed, more work would be needed to make this building ready to lease.
Quapaw Baths, LLC

The National Park Service entered into lease negotiations with Quapaw Baths LLC, a company founded by Hot Springs architects Anthony Taylor and Bob Kempkes and local businessman Don Harper. In April 2007, in concurrence with Hot Springs National Park's 175th Anniversary, the lease agreement was signed, and work began in August to ready the building to its new use. These partners opened a modern spa in the summer of 2008. The new Quapaw offers pools and hot tubs. Read more about it on the Quapaw Baths's website.
"The reopening of the Quapaw Bathhouse marks the renaissance for Bathhouse Row and will enhance our visitor's experience at the national park!"
Josie Fernandez, Superintendent Hot Springs National Park
Did You Know?

Hot Springs Reservation, the first designation of Hot Springs National Park, was set aside by Congress in 1832. This makes Hot Springs National Park the oldest unit in the national park system, 40 years older than Yellowstone National Park.