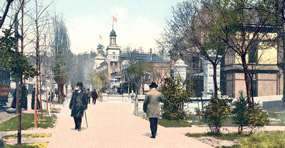 Seeking Health and Luxury
The government took active control of the springs and Reservation for the first time after all of the private claims on Reservation land were settled in 1877. It approved blueprints for private bathhouses ranging from simple to luxurious. The government even operated a free bathhouse and public health facility for those unable to pay for baths recommended by their physician. Gradually Hot Springs came to be called "The American Spa." Slogans such as "Uncle Sam Bathes the World" and "The Nation's Health Sanitarium" were used to promote the city. Because minorities did not have equal access to the bathhouses on Bathhouse Row, African American-owned facilities opened nearby beginning in 1905.
By 1921, the Hot Springs Reservation had become a popular destination for vacationers and health remedy seekers. The new National Park Service's first director, Stephen Mather, convinced Congress to declare the reservation the 18th national park. Monumental bathhouses built along Bathhouse Row about that time catered to crowds of health-seekers. These new establishments, full of the latest equipment, pampered the bather in artful surroundings. The most expensive had marble and tile decorated walls, floors, and partitions. Some rooms sported polished brass, murals, fountains, statues, and even stained glass. Gymnasiums and beauty shops helped cure-seekers in their efforts to feel and look better.
The Army/Navy Hospital, now the Hot Springs Rehabilitation Center, is located just above the south end of Bathhouse Row. Their use of the hot spring water for treatments contributed to a boost in the bathing business during and immediately after World War II. By the 1950s, changes in the field of medicine led to a rapid decline in the use of water therapies. People also started taking driving vacations rather than traveling by train to a single destination. One by one as business declined, the bathhouses began to close. The Buckstaff has been the only traditional bathhouse operating on Bathhouse Row since 1985. In the summer of 2008, the newly leased, updated Quapaw Bathhouse is reopening as a modern day spa.