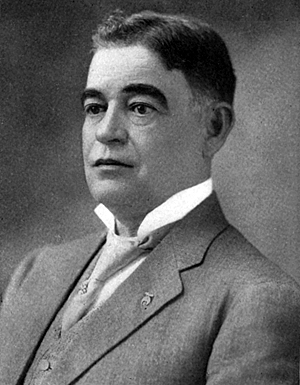 National Park Service image from HOSP archives
St. Louis native William Gilbert Maurice (1859-1927) first came to Hot Springs in 1870, but didn't establish a permanent home here until 1890. He and his father became partners in the Independent Bathhouse in 1892, eventually remodeling it and renaming it the Maurice Bathhouse. That building was torn down and replaced with the existing Maurice structure, which opened in 1912.
William Maurice and Samuel Fordyce competed with each other to offer the public the most modern and opulent bathing facility. When the new Maurice house opened it offered a solarium on the third floor, several gymnasiums, and staterooms where guests could rest after their baths. Fordyce delayed the construction of his new bathhouse until the Maurice opened, so he could alter his designs to better his competitor. After the Fordyce opened in 1915, Maurice immediately closed his bathhouse for an upgrade, which included a new sun porch along the front of the building, four large skylights, and hand-painted wall canvases. The third-floor solarium became the cozy Roycroft Den, with stained glass ceiling and colorful wall murals.