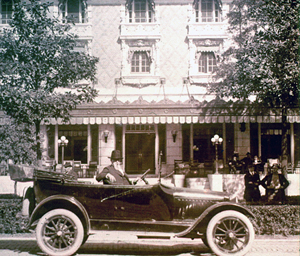 Image from Hot Springs National Park archives
Businessman and railroad magnate Samuel Wesley Fordyce (1840-1919) was a key figure in the early development and promotion of Hot Springs as an international spa and resort. He first visited town in 1873 seeking a cure for lingering health problems caused by wounds received while serving in the Civil War. Fordyce was so impressed with the healing thermal waters that he moved his family here to live in 1876.
Fordyce saw the potential of Hot Springs as a world-class health resort and proceeded to do all he could to develop the place and promote the curative powers of its thermal water. He invested heavily in the infrastructure of Hot Springs, partnering in the construction of several large hotels, the city opera house, all municipal utility systems, the street railway system, the local country club, and several bathhouses. He opened the opulent Fordyce Bathhouse in 1915, which today serves as the Visitor Center for Hot Springs National Park.