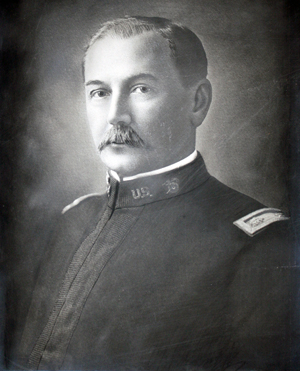 National Park Service image from HOSP archives
Robert Radcliff Stevens (1855-1931) was the career United States Army officer in charge of overall improvement of the Hot Springs Reservation in the early-1890s. Over a five-year period he planned and oversaw construction of a suite of enhancements, including the formal entrance and balustrade, all walkways and roads on Hot Springs Mountain, the park-like front lawns and shady Magnolia Promenade that shaped what we know today as "Bathhouse Row," and Whittington Lake Park in the valley between West Mountain and Sugarloaf Mountain.
Stevens graduated from the U.S. Military Academy at West Point in 1877 and served at several posts in the western United States before being assigned to the Quartermaster Office at the Army and Navy General Hospital in Hot Springs in 1889. After leaving Hot Springs he was in charge of construction of Fort Logan H. Roots in North Little Rock. Later, he was assigned to oversee improvements at Yellowstone and Yosemite, as well as the expansion of Fort Sam Houston in San Antonio. He also served as Quartermaster at the Presidio in San Francisco and fought in the Philippine-American War.