Pets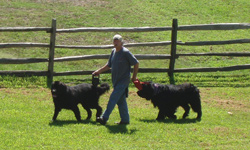 NPS photo
Pets are welcome to visit Hopewell Furnace NHS with some restrictions. Walking animals along the park's roadways and trails is a favorite activity for many owners. But exposure to unfamiliar people, surroundings, wildlife and domesticated animals can cause unusual or even aggressive behavior in some pets. Owners are responsible for their pet's care and conduct while on park grounds. To provide for the safety and enjoyment of pets, owners and fellow visitors, we request that pet owner comply with the following rules when visiting Hopewell Furnace with their animals.
Pets must be on leash and under control at all times when outside their owner's vehicle. There are no designated areas for leaving pets unattended and tied to an object.
Pets are allowed in all outdoor areas of the park open to the public. Pets are not allowed inside any public use buildings. Only service animals or those in training to become service animals are allowed inside buildings with their owners or trainers.
Owners are responsible for removing any pet excrement left by their animals the park's exhibit areas, trails, trace roads and other areas with heavy public use.


Did You Know?

Hopewell Furnace produced products for not only common Americans but also foreign persons of note. In 1822 Hopewell received an order for a stove from Joseph Bonaparte, brother of Napolean Bonaparte, and the former appointed King of Spain.