Lodging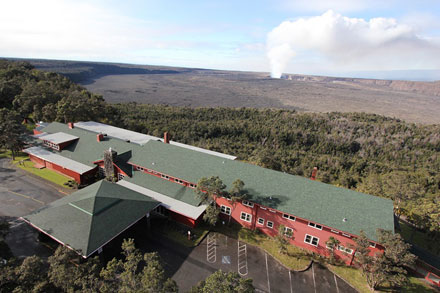 Hawai'i Volcanoes Lodge Company operates the Volcano Housesm
Wake up to dramatic caldera vistas at the summit of Kīlauea, one of the world's most active volcanoes. Perched on the rim of Kīlauea caldera with a view toward Halema'uma'u crater, the historic Volcano Housesm has long captured the imagination of visitors from all over the world with its rich cultural legacy, warm Hawaiian hospitality, and iconic location within Hawai'i Volcanoes National Park on Hawai'i Island. Drawing upon a storied history dating back to 1846, the Volcano Housesm is now ready for a new era. Debuting in Fall 2012, with a grand reopening planned for 2013, the restored Volcano Housesm will offer 34 historic guest rooms, a dining room, snack bar, lounge, and gift shop, along with cultural events and demonstrations. The Volcano Housesm also manages 10 newly refurbished camper cabins and campsites in the nearby Nāmakanipaio Campground.
The Volcano Housesm is just a short walk across Crater Rim Drive from park headquarters and the Kīlauea Visitor Center. From Hilo: 30 miles southwest on Highway 11 (45 minute drive); from Kailua-Kona: 96 miles southeast on Highway 11, or 125 miles through Waimea and Hilo via highways 19 and 11 (2 1/2 to 3 hour drive).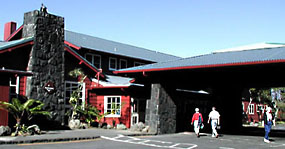 The Volcano Housesm is currently under renovation, however they are accepting reservations for a limited number of rooms and they are operating a gift shop that offers sandwiches and other "grab and go" food items.
For more information about future opening dates and reservations, please visit their website or call,
http://www.hawaiivolcanohouse.com/
Reservations: 1-866-536-7972
Hotel Contact: 808-756-9625
For Lodging outside the park:
There are many Vacation Rentals and Bed and Breakfasts in Volcano Village located right outside the park boundary.


Did You Know?

Polynesians from distant lands came to the shores of Hawai'i over a thousand years ago. Sailing on large, double-hulled canoes, they navigated by using the position of the stars, the sun and the moon, by the movement of the waves and by the flight of the birds.