Mauna Loa Weather Advisory

March 13, 2014 - Mauna Loa is closed beyond Red Hill Cabin. The National Weather Service has issued a high wind warning for Hawai'i Island summits.
What's Going on With the Volcano?
March 10, 2014 - The lava flows on the coastal plain have halted and there is no ocean entry*
Currently there are two eruption locations. One in Halema'uma'u Crater within Kīlauea Caldera and the other in the very remote middle east rift zone.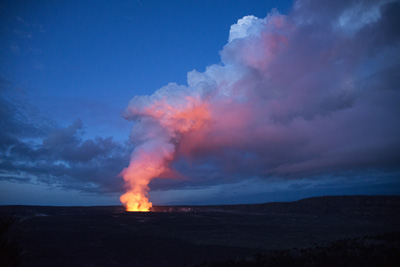 NPS Photo
The best and closest place to observe a volcanic eruption within Hawai'i Volcanoes National Park at present is from Jaggar Museum overlook, and other vantage points at the summit of Kīlauea that provide views of Halema'uma'u Crater.
During daylight, the robust plume of volcanic gas is a constant and dramatic reminder of the molten rock churning in a lava lake beneath the crater floor. After sunset, Halema'uma'u continues to thrill visitors and park staff with a vivid glow that illuminates the clouds and the plume as it billows into the night sky.
The park has increased staffing at Jaggar Museum to assist the many visitors drawn to Halema'uma'u, which has been erupting consistently since the crater became active again in March 2008.
Halemaʻumaʻu web cam (opens in new window).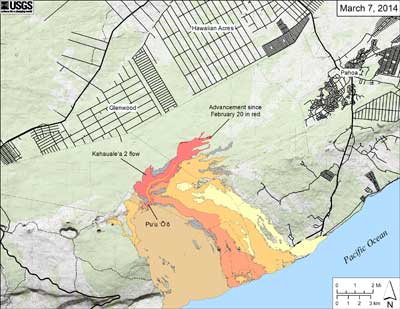 Courtesy USGS - Hawaiian Volcano Observatory
Middle east rift zone vents: Map showing the Kahaualeʻa 2 flow in relation to the eastern part of the Big Island as of March 7, 2014. The front of the Kahaualeʻa 2 flow was 7.9 km (4.9 miles) northeast of Puʻu ʻŌʻō and advancing very slowly. The area of the Kahaualeʻa 2 flow as of February 20 is shown in pink, while widening of the flow since then is shown in red. Older lava flows are distinguished by color: episodes 1–48b flows (1983–1986) are shown in gray; episodes 48c–49 flows (1986–1992) are pale yellow; episodes 50–55 flows (1992–2007) are tan; episodes 58–60 flows (2007–2011) are pale orange, and episode 61 flows (2011–2013) are reddish orange. The active lava tube is shown with a yellow line (dashed where position is poorly known).
Please note: The current lava flows are in a remote, unstable area that is NOT accessible by the public by car or foot.
*March 10, 2014 - There are NO signs of lava activity on the pali (cliffs) or the coastal plain, and NO lava is entering the ocean.
At times, lava may be viewed from the established County Viewing Area in Kalapana
**Currently there is no lava visible from the Kalapana viewing area**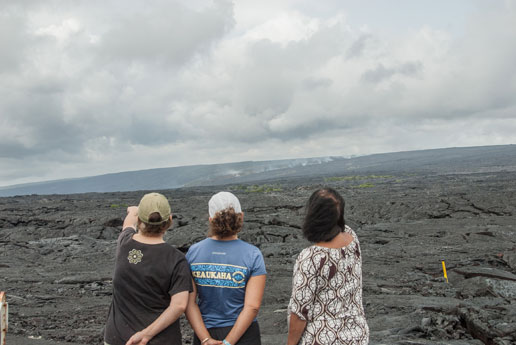 NPS Photo - 12/5/2012
---
The Kalapana public viewing area is outside of Hawaiʻi Volcanoes National Park on the other side of the flow fields and is managed by Hawaiʻi County. There is no fee to enter the viewing area. Currently the viewing area is open from 3:00 p.m. to 9:00 p.m. with the last vehicle allowed in at 8:00 p.m. To hear a recorded message of updated viewing conditions, call 808-961-8093.
---
Map to the Kalapana public viewing area (pdf-469KB)
County of Hawai'i Press Release - Kalapana Lava Viewing Area Remains Free - Feb 12,2013 (pdf-169KB)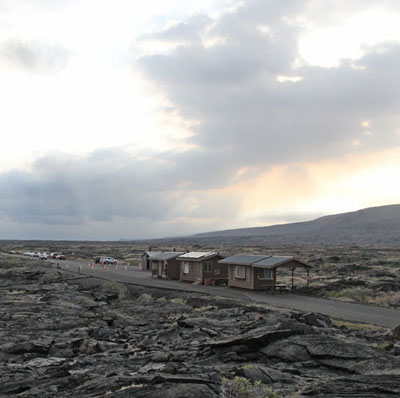 NPS Photo
Surface flowing lava is at times accessible from the end of Chain of Craters Road within Hawai'i Volcanoes National Park. When it is, and if you plan to hike out to it, you should be prepared for an extremely arduous, advanced and challenging hike that should only be attempted by the most physically fit people. It is roughly 13 miles round trip from the end of Chain of Craters Road, with an estimated time to complete of 6 to 8 hours. Hiking across lava fields requires continous awareness and concentration. The lava is uneven, jagged and very sharp. All skin should be covered. If you decide to do this hike, you should have:
3 liters water minimum
rainjacket
gloves
long pants
long sleeve shirt
first aid kit
sturdy hiking boots
one flashlight per person
compass (recommended)
Please view this four minute video - "Plan for Safe Viewing of Lava Flows"
HAZARD ALERT: Lava entering the ocean builds lava deltas. The lava delta and adjacent areas both inland and out to sea are some of the most hazardous areas on the flow field. Frequent delta/bench collapses give little warning, can produce hot rock falls inland and in the adjacent ocean, and can produce large local waves. The steam plume produced by lava entering the ocean contains fine lava fragments and an assortment of acid droplets that can be harmful to your health. The rapidly changing conditions near the ocean entry have been responsible for many injuries and a few deaths.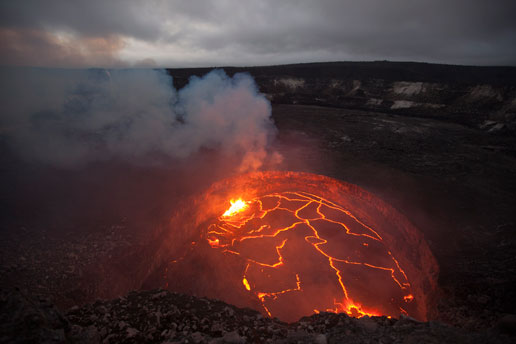 Photo courtesy USGS - Hawaiian Volcano Observatory
View of the lava lake in Halema'uma'u via webcam on October 22, 2012.
On Tuesday, October 23, 2012, the high mark was measured using a laser rangefinder at 100 feet (31m) below the crater floor, the highest level since the vent opened up in March 2008.
Monday, August 12, 2013 - The summit lava lake remains between 120 - 130 feet (37 - 39 meters) below the Halema'uma'u crater floor.
Friday, February 28, 2014 - The lava lake is estimated to be about 135 feet (41 m) below the crater floor.
The webcam is positioned at the old Halema'uma'u lookout that was destroyed when the vent exploded open in March 2008. This area is not accessible to the public, however the view from the Jaggar Museum and the Kīlauea Overlook (pictured at the top of this page) is pretty spectacular.
The lava lakes in the Puʻu ʻŌʻō crater and Halemaʻumaʻu crater, as well as other views may be viewed on webcameras made available by the scientists at USGS Hawaiian Volcano Observatory. Daily updates by staff that monitor Hawaiʻi's volcanoes provide visitors with the most recent observations on volcanic conditions.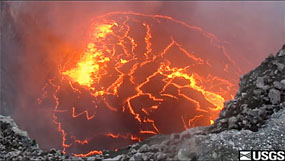 USGS Webcamera
Links to More Information:
USGS Hawaiian Volcano Observatory
Scientist's Daily Updates
Webcams
Air Quality Monitors
Earthquakes - Hawaiʻi
Earthquakes - Worldwide
Multimedia/Photos/Videos
If you are interested in more information about the Kīlauea east rift zone, we invite you to watch the video cast of USGS Hawaiian Volcano Observatory geophysicist Mike Poland from our After Dark in the Park presentation on August 23, 2011. Mike discusses the volcanic history of the area. It's one hour in length and can be viewed here
Did You Know?

From 1983 to 1991, lava flows repeatedly invaded communities on Kīlauea's coastal south flank burying eight miles of highway and destroying 181 houses and a visitor center in Hawai`i Volcanoes National Park.