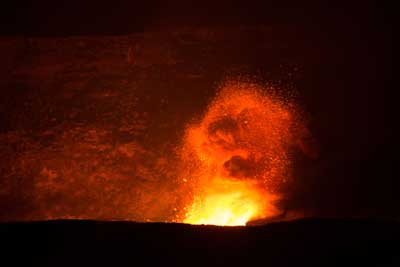 NPS Photo/S. Geiger
April 26, 2015 - 7:15 AM HST
Activity Summary: The summit of Kīlauea Volcano continues to inflate, and the summit lava lake continues to rise, reaching to within about 4 m (~13 ft) of the Overlook crater rim. Seismicity beneath the summit and the upper East and Southwest Rift Zones is elevated. At the East Rift Zone eruption site, widespread breakouts are active within about 8 km (5 mi) of Puʻu ʻŌʻō.
Summit Observations: Kīlauea's summit continued to inflate over the past day, reaching a total of about 6.5 microradians since inflation started on Tuesday, April 21. This trend has been mirrored by the summit lava lake, which rose about 8 m (~26 ft) since yesterday morning and came within about 4 m (13 ft) of spilling over the Overlook crater rim onto the floor of Halema`uma`u overnight. The lava level was about 6 m (20 ft) below the Overlook crater rim at 7 AM this morning, having fallen slightly with an increase in spattering. Seismic activity beneath Kilauea's summit and upper East and Southwest Rift Zones remains elevated. Sulfur dioxide emission rates averaged 3000-5200 tonnes/day for the week ending April 21.
June 27th Lava Flow Observations: Despite rainy weather and poor visibility, a few fleeting webcam views of flow field incandescence indicate that surface flows remain active northeast of Puʻu ʻŌʻō. The most distant activity was burning forest about 8 km (5 mi) northeast of the crater when mapped on April 23.