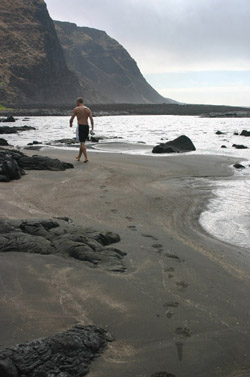 NPS photo by Jay Robinson
The next morning after breakfast we headed northeast along the coast with our snorkels to take a dip at Kalu`e, a cove a mile from Ka`aha. As we made our way cross-country over the rough lava flows we began to find even more evidence of the people who once lived along these shores. We found smoothed, rounded, stepping stones across short sections of pebbles marking the ancient coast trail. There were also house sites, petroglyphs, and papamu (a stone playing board for a game played by children, similar to checkers, that taught strategy in war). Finally we reached Kalu`e, one of the most spectacular beaches I've ever been to. The coral in the cove was yellow, orange, purple and everything in between. Their was an abundance of fish of all types. While there is not a lot of sand when the tide is up, we were the only ones there and had plenty of room to stretch out and absorb some rays.
We returned to the campsite, packed our bags, filled our water bottles, put on sunscreen, and set out on the grueling hike back up to the car. On the hike out I couldn't get the thought out of my head about how hard of a place this would have been to live. These Hawaiians must have been a very resourceful people and they made the best of it with what the land had to offer. Here, I spent one night out there carrying down everything I needed to have a comfortable trip in the backcountry. If you think the hike up the Hilina Pali is hard, imagine doing it bare foot. Then imagine carrying a koa log back down so that you could carve it into a canoe to fish from. If you didn't you might not survive.
Overall this hike was great. There was no one else out there. There was great snorkeling. The weather was nice. Above all, if you look hard enough you will find that the area is rich with history.
*the ulua was an important food for Hawaiians.