By Drew Erickson - July 2005
With photos by Jay Robinson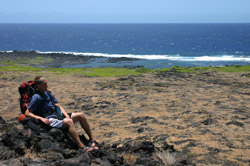 NPS photo by Jay Robinson
I am a volunteer for the National Park Service working in the Division of Interpretation at Hawai`i Volcanoes National Park. I spend the majority of my time working at the visitor center and guiding short walks. What I really love is backpacking, so we thought that I should keep a journal of my adventures and share them on the web. This way, when you visit the park, you will have a better idea of what to expect. I've been backpacking throughout the United States and have guided week-long trips in the Sierra Nevadas for two summers. This weekend I took a trip to Ka`aha to do some exploration.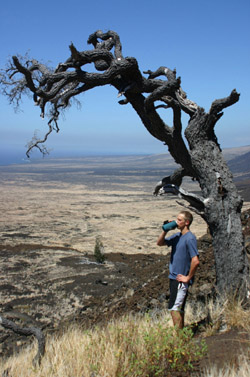 NPS photo by Jay Robinson
We left the trailhead at the end of the Hilina Pali Road in the mid-morning and the sun was already intense. It was around 75ºF. The trail starts out through tall grasses and a few scruffy guavas before making a steep turn down the Hilina Pali (a 1200 ft cliff). The next two miles were some of the steepest downhill I've ever done. The trail will make your knees ache. On your way down it is best to try to step on the larger solid rocks, they are less likely to slide out from beneath you. Fortunately none of my slips turned into falls.
Two thirds of the way down you will come across a huge `ohi`a tree that seems out of place but provides some much needed shade. Stop and take a break here as it is your only chance to get out of the sun. From this point you can see a majority of the trail across the flats marked by large ahu (stone cairns) down to the coast. Once on the flats the trail is a breeze. You will pass the entrance to several caves that are off limits so please stay out of them. These caves served many purposes for the native Hawaiians, from places to collect water, to places to bury the dead. Some believe that the caves, like the rocks and the plants, have a spirit. If you enter them you will be disturbing this spirit. It would be like taking bones from the catacombs below the Vatican. Not cool bra! And also, entry into caves is not allowed in this park.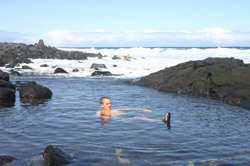 NPS photo by Jay Robinson
We reached Ka`aha at around noon and went straight to the water for a swim. (Temperatures at the coast are typically in the 90s or 100s so keeping cool is very important to avoid heat exhaustion and heat stroke). The fresh water entering the bay via an underground spring keeps it cool, a great chance to relax. I suggest bringing a snorkel as there is a fantastic coral community at the outer edge of the bay. This was the first place I've seen a turtle in the water. I also had a frightening encounter with an ulua* that must have weighed at least a hundred pounds or more. The ulua was the biggest fish I've ever seen in the water. After a quick swim we ate lunch on the rocks that surround the bay. While there is no beach, there are some sandy spots among the lava rocks that provide a soft place to sit.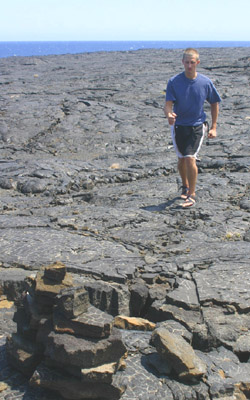 NPS photo by Jay Robinson
After lunch the exploration began. We set off on the Ka`aha trail that heads southwest along the coast. For the first mile or so we followed the ahu across the lava. As we traveled through the area we discovered many archeological sites left by the native Hawaiians. Three hundred years ago there were more people living on this island than there are today and this hot dry coastline was the home of several small settlements. While much of the evidence has been destroyed by earthquakes or washed away by tsunamis, there are still many agricultural pits that were used to grow sweet potatoes, a staple food that can be grown even in these arid conditions. You can recognize these pits by the distinct piles of rocks surrounding small cutout depressions that often have short grasses growing in them.
After an hour of walking we left the trail and headed down to the sea across black sand dunes. This area has a very different historical significance. In WWII it was used as a target range. There are bullet casings and old rusted bomb shells that were launched from ships or dropped by planes. If you find any unexploded bombs, do not touch, take a picture and report your findings to the park rangers in the visitor center.
Along the coast in this area there are several tide pools that are the only chance to cool off along this long stretch of hot dry coast. However, be careful about which one you swim in, some have strong currents that will take you to Tahiti before you know it. In this area we found another important food source for the people who once inhabited the area. The `opihi are limpets, shell fish that cling to rocks along wave surge zones. They are dangerous to collect, but with a little Tabasco and the proper preparation, make a great snack.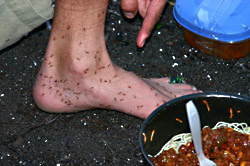 NPS photo by Drew Erikson
We turned around where the trail turned away from the coast and upwards toward Pepeiao (3 miles or so), and headed back to Ka`aha after an afternoon of exploring. As we prepared dinner, Jay was invaded by ants. The little critters were everywhere, but did not bite. Compared to being swarmed by mosquitoes, as I'm sure most backpackers have been at one time or another, the ants were not bad. I do recommend bringing a tent to keep the pests out of your sleeping bag. I woke in the middle of the night to an ant scratching on my ear drum. It took a half a bottle of water poured in my ear to get the little sucker out. I spent the rest of the night with my tee-shirt wrapped around my head to avoid another incident. Next time I will bring a tent.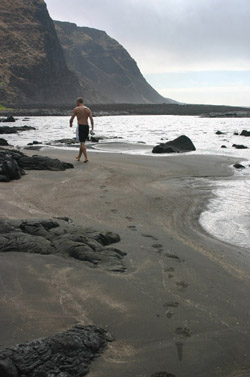 NPS photo by Jay Robinson
The next morning after breakfast we headed northeast along the coast with our snorkels to take a dip at Kalu`e, a cove a mile from Ka`aha. As we made our way cross-country over the rough lava flows we began to find even more evidence of the people who once lived along these shores. We found smoothed, rounded, stepping stones across short sections of pebbles marking the ancient coast trail. There were also house sites, petroglyphs, and papamu (a stone playing board for a game played by children, similar to checkers, that taught strategy in war). Finally we reached Kalu`e, one of the most spectacular beaches I've ever been to. The coral in the cove was yellow, orange, purple and everything in between. Their was an abundance of fish of all types. While there is not a lot of sand when the tide is up, we were the only ones there and had plenty of room to stretch out and absorb some rays.
We returned to the campsite, packed our bags, filled our water bottles, put on sunscreen, and set out on the grueling hike back up to the car. On the hike out I couldn't get the thought out of my head about how hard of a place this would have been to live. These Hawaiians must have been a very resourceful people and they made the best of it with what the land had to offer. Here, I spent one night out there carrying down everything I needed to have a comfortable trip in the backcountry. If you think the hike up the Hilina Pali is hard, imagine doing it bare foot. Then imagine carrying a koa log back down so that you could carve it into a canoe to fish from. If you didn't you might not survive.
Overall this hike was great. There was no one else out there. There was great snorkeling. The weather was nice. Above all, if you look hard enough you will find that the area is rich with history.
*the ulua was an important food for Hawaiians.