April 16, 2014 - Mauna Loa Update

The recent wind advisory has been lifted and Mauna Loa has reopened for backcountry hiking and camping at Red Hill and the Summit.  However, More »
Day Hike - Pu'u Huluhulu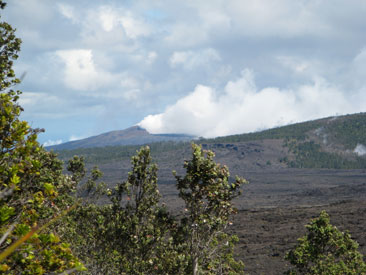 NPS Photo
The trail crosses 1973 and 1974 lava flows, through kīpuka, past lava trees, and climbs 150 feet to the summit of Pu'u Huluhulu. On a clear day, you can see Mauna Loa, Mauna Kea, Pu'u 'Ō'ō and the Pacific Ocean.
Of interest: Pahoehoe lava, kīpuka, lava trees, cinder cone, lava shield, pioneer plants, and panoramic vista.
Difficulty: Moderate
Distance and hiking time: 3 miles roundtrip, 2 hours
Distance from Visitor Center to trailhead: 8 miles/25 minutes. The trail begins at the Mauna Ulu parking area on the Chain of Craters Road.
Bring water and snacks.
Prepare for hot and dry or wet and windy weather.
Follow the ahu (rock piles) over the lava flows.
Sulfur fumes may be strong on some days.
Pu`u Huluhulu / Mauna Ulu Trail Guide (pdf 3.31mb)
Did You Know?
Kīlauea Volcano has erupted lava almost continuously from its east rift zone since 1983. These lava flows have added about 500 acres of new land to the southern shore of Kīlauea and covered 8.7 miles (14 km) of highway with lava as deep as 115 feet (35 m). More...