Mauna Loa Weather Advisory

March 7, 2014 - Mauna Loa is closed for day and overnight use. More »
Park Film Receives Award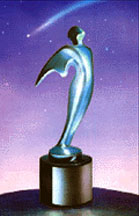 And the award goes to...
"Born of Fire…Born of the Sea" captured the prestigious Silver Telly Award in the 21st Annual Telly Awards Competition.
The Telly Awards are a national competition and the Telly has become one of the most sought-after awards in the video industry. The Silver Telly is its highest award.
"Born of Fire...Born of the Sea" ranked in the top 7% of 11,033 entries and scored a 9+ on a 10-point scale based on concept, writing, on-screen talent, lighting, cinematography, editing, sound, and music.
Did You Know?

The endangered Honu`ea (Hawksbill Sea Turtle) comes to shore on the main Hawaiian Islands to nest. They lay multiple nests throughout the season with an average of 175 eggs per nest. Only one in 5,000 hatchlings survives to adulthood.