Park Film Receives Award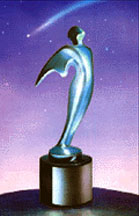 And the award goes to...
"Born of Fire…Born of the Sea" captured the prestigious Silver Telly Award in the 21st Annual Telly Awards Competition.
The Telly Awards are a national competition and the Telly has become one of the most sought-after awards in the video industry. The Silver Telly is its highest award.
"Born of Fire...Born of the Sea" ranked in the top 7% of 11,033 entries and scored a 9+ on a 10-point scale based on concept, writing, on-screen talent, lighting, cinematography, editing, sound, and music.
Did You Know?

Only two butterflies found in Hawai`i are native. The Kamehameha Butterfly (Vanessa tameamea) is Hawai`i's state insect, brightly colored, and larger than the Blackburn's blue (Udara blackburni).