April 22, 2014 - Temporary Closure of Mauna Loa Strip Road

During the week of the 51st Annual Merrie Monarch Festival in Hilo, Hawaii, travel on the Mauna Loa Strip Road in Hawai'i Volcanoes National Park will be restricted to hiking, biking and official motor vehicle traffic only. More »
Crater Rim Drive Tour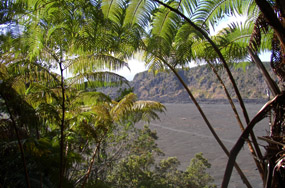 NPS/Katja Chudoba
Visiting the park by car is easy to do. The two main roads visitors will travel (Crater Rim Drive and Chain of Craters Road) are paved, two-wheel drive roadways. Crater Rim Drive takes you along a portion of the summit caldera (large pit crater) of Kīlauea.
Weather may be cool, windy, and rainy. Bring shoes, raingear/jackets, hats, bottled water, and snacks if you plan to venture out of your car at these view points.
Use the links below to familiarize yourself with scenic stops along Crater Rim Drive.
Did You Know?
Kīlauea Volcano has erupted lava almost continuously from its east rift zone since 1983. These lava flows have added about 500 acres of new land to the southern shore of Kīlauea and covered 8.7 miles (14 km) of highway with lava as deep as 115 feet (35 m). More...