Nesting Nene Laying Eggs and Lying Low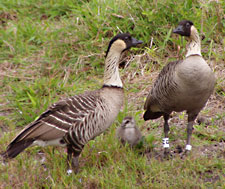 NPS photo
Hawai`i Volcanoes News Release
Date: January 12, 2006
Contact: Mardie Lane, Park Ranger (808) 985-6018
"'Tis the season…," the nesting season, that is, for nene, Hawai'i's state bird. From the coast of Kilauea to the slopes of Mauna Loa, thirty pairs of endangered Hawaiian geese are tending creamy white eggs and downy gray newborns.
To help protect nesting nene, Superintendent Cindy Orlando announced the closure of Hilina Pali Road at the Mauna Iki Trailhead to cars, hikers, and bicyclists until further notice. Dogs are not allowed on Hilina Pali Road or at Kulanaokuaiki Campground.
Kulanaokuaiki Campground and Mauna Iki Trailhead, located on Hilina Pali Road, remain open.
Registered backcountry hikers can still access the park's coastal trails and campsites from Mau Loa o Mauna Ulu and Pu`u Loa trailheads on Chain of Craters Road and from the Ka`u Desert trailheads on Crater Rim Drive and Highway-11.
Last year, within the park, approximately 40 nene pairs nested and some 23 goslings fledged. Despite this reproductive success, the park's nene population is still down from a high of 200 birds in 1997 to about 165 birds currently.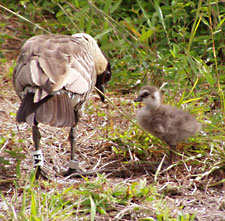 NPS photo
According to park biologist Kathleen Misajon, "Park visitors play a key role in aiding the recovery of Hawai'i's State bird."
Humans, often unknowingly, disturb nesting nene. When visitors enter a nene's territory, they can provoke a gander's defensive attack, make a goose leave her eggs, or cause goslings to expend time and energy fleeing and hiding when they should be eating. Between now and April, the park will temporarily close areas to give nene families a respite from human disturbance.
In addition, cats and dogs hunt and kill nene. Pet owners help protect native bird populations by keeping their cats indoors and taking unwanted animals to the Humane Society. Dogs are not allowed in most areas of the park and are never permitted on park trails.
Nene that are fed by visitors hang out in parking lots where they risk being hit and killed by cars. Nene also graze on grass that grows along the roadsides, frequenting these areas during the day, at twilight and dawn, and even after dark. Drivers should observe posted speed limits and look out for nene especially in signed nene areas.
The island's on-going drought in the late 1990s dealt nene a hard blow by reducing critical nene forage. Nene need plump berries and tender shoots to store-up energy for nesting, and goslings require high protein plants to fuel their growth spurts. The park's 'ohelo, kukaenene, and pukiawe berries are nene favorites.
"We hope to build on last season's nesting success," says Misajon, "and continue to increase the park's nene population."
EXPERIENCE YOUR AMERICA™

The National Park Service cares for special places saved by the American people so that all may experience our heritage.