Parched Park's 2010 Rainfall Rivals Sahara
Date:
October 21, 2010
Contact:
Mardie Lane
, 808.985.6018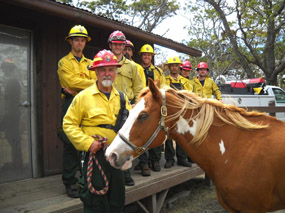 NPS Photo - Gary Wuchner
The fire severity situation within Hawai`i Volcanoes National Park is at an all time high. Since last December, a mere five inches of rain have fallen in areas of the park that would normally receive 50" or more annually.
Residents, and even visitors, have noticed that native trees and shrubs such as koa, `ohi`a, and pukiawe are turning brown, dropping leaves, and dying. The tinder adds to the wildfire hazard.
Due to the unprecedented conditions, Hawai`i Volcanoes' Fire Management Officer Joe Nolhoek augmented Hawaii fire crews with personnel from Olympic, North Cascades, Whiskeytown, Redwood, American Samoa, and Yosemite national parks and Mt. Baker-Snoqualmie National Forest.
A welcome sight, the visiting firefighters patrol for prevention, reduce fuels, formulate initial attack plans, and update their qualifications training.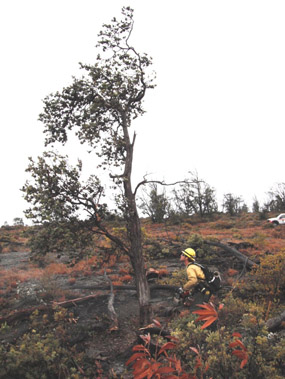 NPS Photo - Gary Wuchner
In addition, fire information officers educate employees, cooperators, and the public in prevention and preparedness. Community response is positive. Nearly three hundred residents attended a neighborhood meeting intent on hearing what steps to take now to prevent a wildfire and actions to take in the event of a wildfire.
Recently, Hawai`i Volcanoes has had a few days of mist and rain. Some vegetation greened up. But prolonged drought leaves long-term fire potential; dead, fire-receptive fuels abound.
Last week, a passing thunderstorm served a mixed blessing. While rain soaked dry ground, lightning cut through a native `ohi`a, setting it afire. Fortunately, patrolling firefighters spotted smoke smoldering in the tree's dead wood, averting potential disaster.
"Our fire severity continues and the seriousness of the situation will remain until sustained rains return," said Molhoek. "Prevention is a priority."
So far, efforts have paid off and the message is clear--when it comes to wildfire, we all play a role in protecting the park, ourselves, and each other.