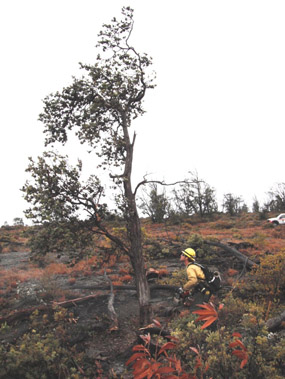 NPS Photo - Gary Wuchner
In addition, fire information officers educate employees, cooperators, and the public in prevention and preparedness. Community response is positive. Nearly three hundred residents attended a neighborhood meeting intent on hearing what steps to take now to prevent a wildfire and actions to take in the event of a wildfire.
Recently, Hawai`i Volcanoes has had a few days of mist and rain. Some vegetation greened up. But prolonged drought leaves long-term fire potential; dead, fire-receptive fuels abound.
Last week, a passing thunderstorm served a mixed blessing. While rain soaked dry ground, lightning cut through a native `ohi`a, setting it afire. Fortunately, patrolling firefighters spotted smoke smoldering in the tree's dead wood, averting potential disaster.
"Our fire severity continues and the seriousness of the situation will remain until sustained rains return," said Molhoek. "Prevention is a priority."
So far, efforts have paid off and the message is clear--when it comes to wildfire, we all play a role in protecting the park, ourselves, and each other.