Overview
Currently there are 360,249 objects in the park archives. The collection consists primarily of park records, reports, photographs, slides, maps, drawings, and plans. The public may conduct research in the archives by appointment only. To make arrangements, please call the Archivist at (808) 985-6327. Please call at least one week in advance to ensure availability of staff.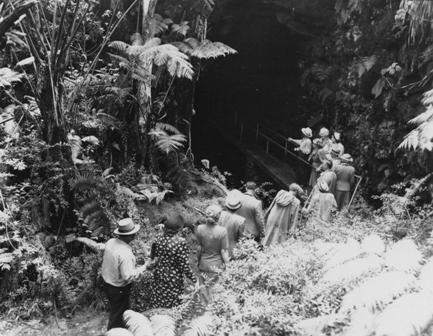 Park History Documents
The archives serves mainly to document the people, places and events within the park over its history. Administrative records and photographs dating back to 1918 provide useful information to park staff and researchers. Monthly reports by park superintendents dating from 1922 are especially valuable in that they record everything from resources management to visitor statistics.
Volcano House sm
The Volcano House sm has been a part of the landscape and history at Kīlauea for over 130 years. It has changed in size, style, building materials, and types of accomodation over its long history. Records and photographs in the park's archives provide useful information for interpreting this institution's fascinating story.