Student Archeology Programs
Archeology: It's all about questions, clues, detective work, digging in the dirt and solving mysteries!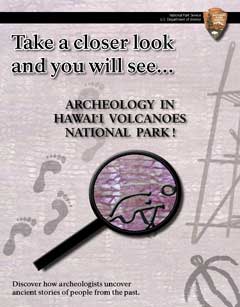 Archeology in Hawai'i Volcanoes National Park (pdf 3.4MB)
This children's magazine features fun activities on archeology in Hawai'i Volcanoes National Park.
Coming soon: New Archeology Learning Trunks for Hawai'i Island Teachers!
Grade 3: "Wahi Pana, Nā Mea Makamae (Legendary Places, Cultural Treasures)".
Grade 4: "Nā Leo I Ka Makani (Voices on the Wind).
Grade 5 and 6-8 programs are underway and will be available in 2014.
Trunks include classroom-tested lessons plans and activity sheets, touchable artifacts, authentic tools for hands-on archeological experiences and a book review library collection.


Available now for grades 6-12 is the video learning series "Pacific Clues", a joint project of PBS Hawai'i and the Hawai'i Department of Education. "Pacific Clues" visits nine Polynesian archeological sites to see how archeologists find clues to help them unlock the mysteries of the early inhabitants of several Pacific islands.
Would you like to see one of the video segments now? Pacific Clues: Footprints in the Lava is an intriguing 10 minute look at the connections between science and culture as witnessed in Hawai'i Volcanoes National Park. Also view the companion inquiry-based student worksheet (pdf-170KB) to help your students learn to think like an archeologist. If you'd like to see all of the segments, we have the complete DVD series available for teachers on loan.