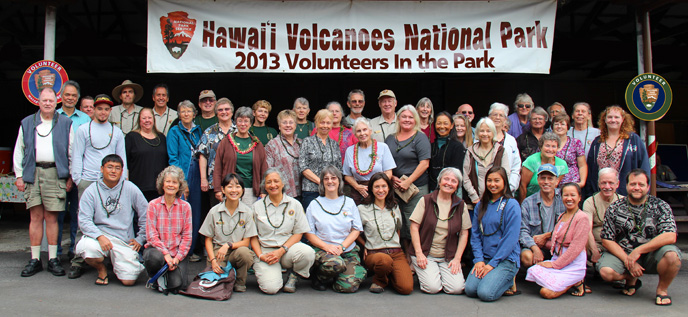 NPS Photo - Jay Robinson
Hawaiʻi Volcanoes National Park Proudly Honors Our Volunteers!
At Hawai'i Volcanoes National Park, there are varying volunteer opportunities. Some of the more common are:
Interpreting the park to visitors with the goal of ensuring every visitor experience is a positive one by interacting with them at the Kīlauea Visitor Center and Jaggar museum, by giving informative talks and by leading interpretive hikes.
Removal of invasive plants.
Assisting with native plant propagation and re-forestation.
Working in plant nurseries - seed collection.
Working with Hawksbill and sometimes Green Sea Turtles, protecting the nests and maximizing survival of the hatchlings.
Administration.
Sound exciting? Please see the bottom of this page for current opportunities.
Click here to meet some of our volunteers.
---