Change in Park Hours

The park is currently open daily from 9 a.m. to 5 p.m. with the last shuttle bus departing Lower Town at 6:45 p.m. More »
Murphy Farm Closure Sept 2-4, 2014

The Murphy Farm will be closed to public access Sept. 2-4, 2014 to allow application of fertilizer to the hayfields. For further information please click on the "More" link or contact the park's Resource Management Specialist at 304-535-6038. More »
Plan Your Visit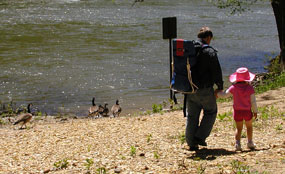 NPS photo
Harpers Ferry
offers a variety of things to do. Join a guided ranger tour, visit our exhibits and museums, hike our many trails, buy a book at the Historical Association's bookshop or just explore on your own. A short walk takes you into the town of
Harpers Ferry
where you will find restaurants and shops.

Request for Overnight Parking - please note this is a .pdf file. To submit this form, please fax it to 304-535-6061.


Did You Know?

On July 14, 1896, during their first National Convention, the National League of Colored Women visited the John Brown Fort. They were the first group known to make such a pilgrimage to this site.