Temporary Suspension of Reference Collection Research

Due to preservation and maintenance work scheduled for the park archives and research room/library space, new public research requests will not be filled from June 1st to at least January 30th, 2014.
Change in Park Hours

The park is currently open daily from 9 a.m. to 5 p.m. with the last shuttle bus departing Lower Town at 5:45 p.m. More »
Plan Your Visit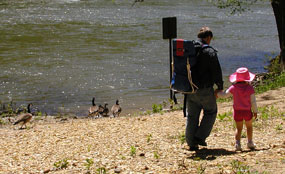 NPS photo
Harpers Ferry
offers a variety of things to do. Join a guided ranger tour, visit our exhibits and museums, hike our many trails, buy a book at the Historical Association's bookshop or just explore on your own. A short walk takes you into the town of
Harpers Ferry
where you will find restaurants and shops. Click the Visitor Map and Guide below to start planning your visit!


Request for Overnight Parking - please note this is a .pdf file. To submit this form, please fax it to 304-535-6061.


Did You Know?

Harpers Ferry changed hands 8 times during the Civil War. These Union troops posed for a picture on Camp Hill in Harpers Ferry in October, 1862.