Plan Your Visit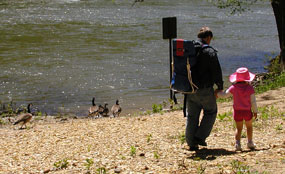 NPS photo

Harpers Ferry offers a variety of things to do. Join a guided ranger tour, visit our exhibits and museums, hike our many trails, buy a book at the Historical Association's bookshop or just explore on your own. A short walk takes you into the town of Harpers Ferry where you will find restaurants and shops. Click the Visitor Map and Guide below to start planning your visit!
Request for Overnight Parking - please note this is a .pdf file. To submit this form, please fax it to 304-535-6061.


Did You Know?
The National Park Service brochures are designed and produced at the Harpers Ferry Interpretive Design Center located in Harpers Ferry.