Change in Park Hours

The park is currently open daily from 9 a.m. to 5 p.m. with the last shuttle bus departing Lower Town at 6:45 p.m. More »
Plan Your Visit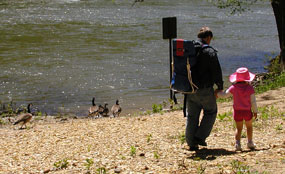 NPS photo
Harpers Ferry
offers a variety of things to do. Join a guided ranger tour, visit our exhibits and museums, hike our many trails, buy a book at the Historical Association's bookshop or just explore on your own. A short walk takes you into the town of
Harpers Ferry
where you will find restaurants and shops.

Request for Overnight Parking - please note this is a .pdf file. To submit this form, please fax it to 304-535-6061.


Did You Know?

Robert Harper operated a ferry across the Potomac River in 1747. His heirs, the Wagers, maintained the operation until 1824 when a bridge was built across the Potomac.