Seasonal road closures in effect

Seasonal road closures are in effect for motorized vehicles. The Teton Park Road is closed from the Taggart Lake Trailhead to the Signal Mountain Lodge. The Moose-Wilson Road is closed from the Granite Canyon Trailhead to the Death Canyon Road. More »
Bears are active in Grand Teton

Black and grizzly bears are roaming throughout the park--near roads, trails and in backcountry areas. Hikers and backcountry users are advised to travel in groups of three or more, make noise and carry bear spray. Visitors must stay 100 yards from bears. More »
Safety in Bear Country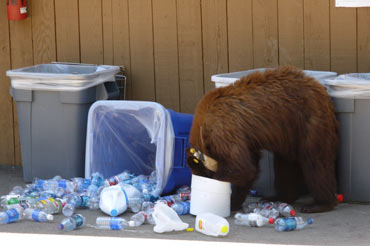 Proper Food Storage Required
Allowing a bear to obtain human food, even once, often results in aggressive bear behavior. Aggressive bears are a threat to human safety and must be relocated or killed. Do not feed bears or other wildlife for any reason. Failure to follow park food storage regulations is a violation of federal law. Help keep bears wild and humans safe.

Bear Safety Brochure
Learn more about being safe in bear country. Download our brochure.
Video Podcasts
Watch our video podcasts to learn more about proper food storage, which bear did you see, and safe wildlife viewing.
Did You Know?

Did you know that the black stripe, or dike, on the face of Mount Moran is 150 feet wide and extends six or seven miles westward? The black dike was once molten magma that squeezed into a crack when the rocks were deep underground, and has since been lifted skyward by movement on the Teton fault.