Bears are active in Grand Teton

Black and grizzly bears are roaming throughout the park--near roads, trails and in backcountry areas. Hikers and backcountry users are advised to travel in groups of three or more, make noise and carry bear spray. Visitors must stay 100 yards from bears. More »
Moose-Wilson Road Closure

The Moose-Wilson Road between Death Canyon Junction north to the intersection with the Murie Center Road is temporarily closed to motor vehicles, bicycles, skating, skateboards and similar devices. For current road conditions call 307-739-3682. More »
Multi-use Pathway Closures

Intermittent closures of the park Multi-use Pathway System will occur through mid-October during asphalt sealing and safety improvement work. Pathway sections will reopen as work is completed. Follow the link for a map and more information. More »
Safety in Bear Country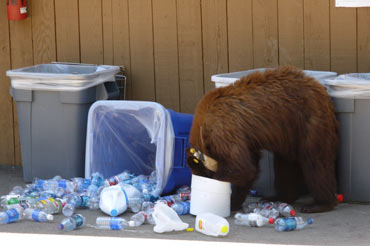 Proper Food Storage Required
Allowing a bear to obtain human food, even once, often results in aggressive bear behavior. Aggressive bears are a threat to human safety and must be relocated or killed. Do not feed bears or other wildlife for any reason. Failure to follow park food storage regulations is a violation of federal law. Help keep bears wild and humans safe.

Bear Safety Brochure
Learn more about being safe in bear country. Download our brochure.
Video Podcasts
Watch our video podcasts to learn more about proper food storage, which bear did you see, and safe wildlife viewing.
Did You Know?

Did you know that until the 1890s no one had settled on the west bank of the Snake River in the central part of Jackson Hole? William "Bill" Menor built a ferry at Moose to shuttle patrons across the river, the only reliable crossing point between Wilson and Moran.