Prevent Aquatic Nuisance Species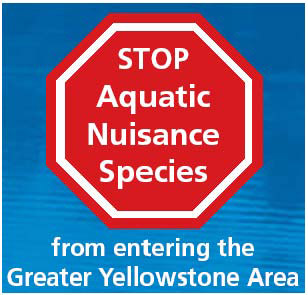 New for 2010: Wyoming state law now requires boaters to purchase an Aquatic Invasive Species decal from the Wyoming Game and Fish Department and post it on their boat. more>>


All boaters recreating in Grand Teton National Park must self-certify that your boat is aquatic nuisance free. More>>
Download the Pocket Guide: Aquatic Nuisance Species handbook for photos, descriptions and useful information.
Aquatic Nuisance Species Pose a Serious Threat to the Aquatic Ecosystem
DRAIN - CLEAN - DRY
Aquatic invasive species, such as whirling disease and zebra or quagga mussels, are a serious ecological and economic threat to the Greater Yellowstone Ecosystem. Any activities that come in contact with any body of water have the potential to spread non-native plants, pathogens, and other invasive species among water bodies. Follow these steps every time you come in contact with any body of water:
1. Remove all visible mud, plants, fish, or other tiny animals from your boats, trailers, and other equipment, including waders, boots, clothing, and nets.
2. Eliminate water from all equipment before transporting anywhere. Much of the recreational equipment used in water contains spots where water can collect and potentially harbor these aquatic hitchhikers. Drain your boat hull and live well in a safe location (a flat paved, dirt, or gravel area) away from all park surface waters.
3. Clean and dry everything that comes in contact with water before entering a new body of water. It is best to use high-pressure, hot water (available at car washes outside the park) to clean your boat, trailer, and gear.
4. Dry Equipment. If possible, allow 5 days of drying time before entering new waters.