Accessibility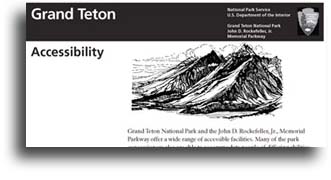 Download the Accessibility brochure (Adobe PDF document, 621 kb).
The Craig Thomas Discovery & Visitor Center, Jenny Lake and Colter Bay visitor centers and the Flagg Ranch Information Station provide accessible restrooms, TDD, parking spaces, curb cuts and entrances. Exhibits at Colter Bay and Jenny Lake visitor centers may require assistance. View the Accessibility brochure for detailed information. We also have a large font Accessibility brochure available. TDD is (307) 739-3400.
Many accessible interpretive activities are listed in the park newspaper. Campgrounds at Gros Ventre, Jenny Lake (partially accessible restrooms) and Colter Bay (partially accessible restrooms) are located on relatively flat terrain. Lizard Creek and Signal Mountain campgrounds are hilly and access is more difficult. Inquire for most accessible sites. Eight campsites along Grassy Lake Road, west of Flagg Ranch, provide easy access by vehicle and accessible vault toilets. The Headwaters Lodge & Cabins at Flagg Ranch have camping and RV sites that provide accessible facilities.
All lodging facilities provide some units that are accessible except the American Alpine Club Climber's Ranch. Please contact each facility for assistance and reservations. Restaurants with accessible facilities are located at Flagg Ranch, Leeks Marina, Colter Bay, Signal Mountain Lodge, Jackson Lake Lodge and Jenny Lake Lodge.
A few trails are accessible, with asphalt surfaces, appropriate grades and good views including Colter Bay headwall, Jackson Lake Dam overview, Menors Ferry Historic District, and the Jenny Lake shore trail. Persons with disabilities may use any type of assistive technology to access the park.
Wayside exhibits and overlooks have curb cuts and designated parking.


Camping in the park

Information on campgrounds in the park, including reservations and open/close dates. Read More

Operating hours & seasons

Information about visitor centers and hours of operation. Read More

Road Information

Find out about road construction, closures and other information to help plan your visit. Read More
Did You Know?

Did you know that lodgepole pine trees grow on glacial moraines in Jackson Hole? Glacial moraines are ridges of rocky debris left behind as Ice Age glaciers melted. The soil on these ridges retains moisture and is more hospitable to trees than the cobbly, porous soil on the outwash plain.