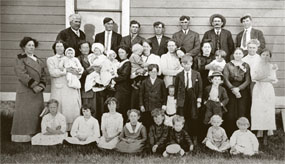 Jackson Hole Historical Society and Museum, 1958.1774.001
Leaders of The Church of Jesus Christ of Latter-day Saints, or Mormons, sent parties from the Salt Lake Valley to establish new communities and support their expanding population. Mormon homesteaders, who settled east of Blacktail Butte near the turn of the 19-century, clustered their farms to share labor and community, a stark contrast with the isolation typical of many western homesteads. These settlers first arrived in the 1890s from Idaho establishing a community (named Grovont by the U.S. Post Office) known today as "Mormon Row."
Homesteaders established 27 homesteads in the Grovont area because of relatively fertile soil, shelter from winds by Blacktail Butte and access to the Gros Ventre River. Despite the harsh conditions of Jackson Hole, Mormon settlers grew crops by using irrigation. These hardy settlers dug ditches by hand and with teams of horses, building an intricate network of levees and dikes to funnel water from central ditches to their fields between 1896 and 1937. Water still flows in some of these ditches.
Mormon Row Historic District was added to the National Register of Historic Places in 1997 as an Historic District.
How to get there: Drive north from Jackson on highway 191 past Moose Junction and turn right onto Antelope Flats Road. Follow the road about 1 ½ miles until you see a north-south running dirt road marked by a distinctive pink stucco house on the left with a small dirt parking area. A trail brochure and interpretive sign can be found at the parking lot.