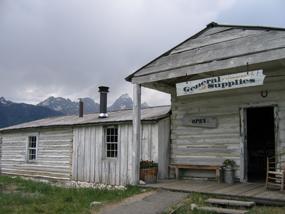 Menor's Ferry General Store
Bill Menor traveled from Ohio to Montana before settling in 1892 on the Snake River "where the river was altogether in one place." He found that the river flow near present-day Moose narrowed to a single channel that could be crossed more easily than the wide, braided channels that comprise most of the Snake River. During the next decade, he built his cabin one room at a time. His brother, Holiday, settled on the other side of the Snake River and operated a limekiln.
Bill painted the general store with whitewash from Holiday's limekiln. In the early 1900s, the store and ferry drew homesteaders and dudes alike, ordering supplies and crossing the river. Bill also operated a smokehouse and blacksmith shop, raised vegetables supplying produce to the local dude ranches, and served as postmaster. In 1918, he sold his homestead and ferry operation to Maud Noble. Today, period furnishings fill the cabin, and the storekeeper still sells period goods to visitors who venture to the store. Grand Teton Association manages the store; open seven days a week during the peak summer season.
How to get there: Drive north from Jackson to Moose Junction. Turn left onto the Teton Park Road. Drive through the entrance station and then take a right into the Menor's Ferry Historic District. Park in the large parking lot and follow the paved path leaving from far side of the parking lot. Shop at the general store or join a ranger for a guided walk through the district.