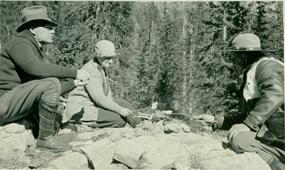 The Jackson Lake Lodge was listed in the National Register of Historic Places as an historic district in 2002 and was declared a National Historic Landmark in 2005.
Lunch Tree Hill: A Vision for the Future
During the summer of 1926, John D. Rockefeller, Jr. and his family spent several days touring Jackson Hole with Yellowstone National Park Superintendent Horace Albright. Albright arranged the tour to inspire Rockefeller to preserve land along the base of the Teton Range. Albright showed the Rockefellers how telephone lines, billboards, a dilapidated dancehall and uncontrolled development spoiled the majestic views.
The party hiked up Lunch Tree Hill for a picnic, enjoying an unobstructed view of the Teton Range. After the tour, Rockefeller and Albright launched a plan to purchase Jackson Hole land and set aside this exquisite landscape for future generations. Visit the hill today to view the panoramic vista of Jackson Lake and the Teton Range.