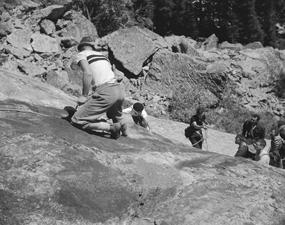 Beginning in 1946, Paul Petzoldt and Glenn Exum used the old CCC bathhouse as office space and living quarters for their guide service, Petzoldt-Exum School of American Mountaineering. Petzoldt and Exum—pioneers of guided climbing in the United States—challenged clients to learn skills necessary to climb the Teton Range's majestic peaks a break in tradition from European guides.
Today, the old bathhouse still serves as the summer headquarters for the Exum Mountain Guides.
How to get there: Drive north from Jackson to Moose Junction. Turn left onto the Teton Park Road toward Moose. Drive through the entrance station eight miles, turn left into the South Jenny Lake area. Parking can be very challenging here between 10 a.m. and 4 p.m. during peak summer months. Plan your visit around these hours for the best experience. A variety of visitor services exist here including a visitor center, interpretive exhibits, ranger station, boating concession, restrooms and store. The To reach the old CCC camp, park at the far south end of the parking lot, walk across a wooden bridge to the Exum Mountain Guide offices.