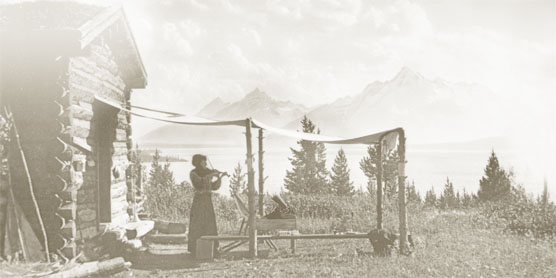 Photograph by Sumner W. Matteson. Jackson Hole Historical Society and Museum #1958.0975.001
In 1990, the AMK Ranch was added to the National Register of Historic Places.
AMK Ranch: An Inspiring View
Although named the AMK Ranch, this site never served as a working ranch. Homesteaders settled here in 1890. Later two wealthy families vacationed here. Majestic views of the Teton Range and Jackson Lake now serve as a unique backdrop for research and education at the University of Wyoming Research Center.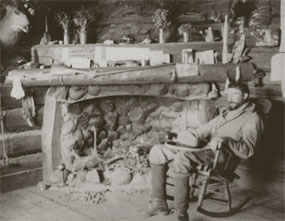 Merymere Lodge: A Long and Storied Past
In 1890, John Dudley Sargent claimed Jackson Hole's northernmost homestead. Sargent and his partner Robert Ray Hamilton ran a lodge called the Merymere Lodge overlooking Jackson Lake. Viewing them as undesirable offspring, Sargent and Hamilton's wealthy Eastern families paid them to move out West, a practice known as "remittance." In 1891, Hamilton went missing during a hunting trip. When searchers found his body, they lit a fire on a hill, giving it the name Signal Mountain. Sargent lived and died tragically—suspected of murdering Hamilton and his first wife, he later took his own life.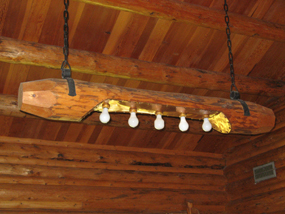 Vacation Home 1920s–1970s
The Johnson Lodge – W. Lewis Johnson, a retired Hoover Vacuum Company executive, visited Jackson Hole in the early 1920s, falling in love with the rugged landscape. In 1926, he purchased the Sargent ranch and hired a local contractor to build a large, two-story lodge using native pine.
The Berol Lodge – The "AMK Ranch" name comes from the first initials of the next owner's family: Alfred, Madeleine and their son Kenneth Berol. In the mid-1930s, they bought the ranch. Berol hired architects from New York City and Wilson, Wyoming, to design a new lodge, capturing views of Jackson Lake and the Teton Range. Alfred spent nearly forty summers here with his family.
Summit Meeting 1989
. . . [W]e made progress, and I'd like to think that the Tetons towering nearby, Jackson Lake before us, and the rustic openness of the Berol Lodge facilitated much of it.
—U.S. Secretary of State James A. Baker, III
During three days in September 1989, U.S. Secretary of State James A. Baker, III and former U.S.S.R. Minister Eduard Shevardnadze met in the Berol Lodge. They discussed nuclear disarmament, economic reforms and other issues that led to the peaceful conclusion of the Cold War.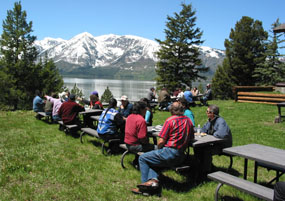 Research Center
The University of Wyoming/National Park Service Research Center formed and moved to the AMK Ranch in 1977. The center has its roots in the Jackson Hole Wildlife Park, a cooperative venture between the Jackson Hole Preserve Inc., New York Zoological Society and Wyoming Game and Fish Commission. Today, the AMK Ranch serves as a research facility for social, physical and biological sciences. The Center promotes excellence in research by furnishing housing, laboratory space, transportation, equipment and financial support for scientists.
How to get there: During the summer, the University of Wyoming hosts an evening speaker series at the Berol Lodge where researchers present their work to the public after a casual dinner. To access the AMK Ranch, turn west from highway 89 onto the spur road towards Leeks Marina. In half a mile, turn right at the University of Wyoming sign and continue a mile up the road. Park in front of the Johnson Lodge and walk to the Berol Lodge.