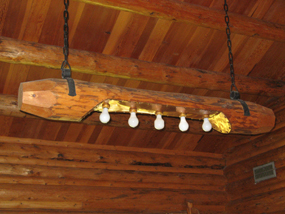 Vacation Home 1920s–1970s
The Johnson Lodge – W. Lewis Johnson, a retired Hoover Vacuum Company executive, visited Jackson Hole in the early 1920s, falling in love with the rugged landscape. In 1926, he purchased the Sargent ranch and hired a local contractor to build a large, two-story lodge using native pine.
The Berol Lodge – The "AMK Ranch" name comes from the first initials of the next owner's family: Alfred, Madeleine and their son Kenneth Berol. In the mid-1930s, they bought the ranch. Berol hired architects from New York City and Wilson, Wyoming, to design a new lodge, capturing views of Jackson Lake and the Teton Range. Alfred spent nearly forty summers here with his family.