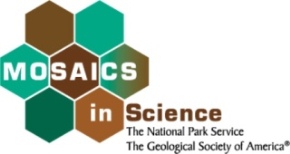 Mosaics in Science
A program committed to expanding diversity in the sciences.
The U.S. National Park Service (NPS), in partnership with the Geological Society of America (GSA), seek diverse youth (ages 17-25) who follow academic paths with focus on STEM (Science, Technology, Engineering, and Math) careers within the National Park Service. Selected participants will spend 11 weeks working on a STEM project at a National Park Service site. After completing their projects, participants travel to Washington, DC, to participate in a career workshop that provides opportunities to present their work and meet with various members of NPS staff and management.
Click here for more information: Mosaics in Science.