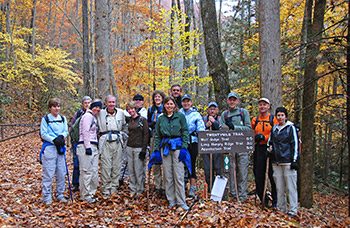 Friends of Great Smoky Mountains National Park
Want to have an adventure in the park? The park's partner organizations offer a wide variety of programs to help you explore and learn about the national park. Please visit their websites for program schedules and fees.

• Friends of the Smokies offers guided hikes and events that increase awareness of and support the national park. Hikes vary in distance and difficulty, and feature trails in both North Carolina and Tennessee. Expert guides include noted authors and wellness professionals.
• Great Smoky Mountains Association offers hikes and activities that enhance the knowledge and appreciation of the national park. The programs cover a variety of topics from cultural activities, night walks, and guided hikes.
• Great Smoky Mountains Institute at Tremont offers programs for all ages: summer camps, family camps, naturalist workshops, hiking adventures, and more. (865) 448-6709

• Smoky Mountain Field School offers workshops, day hikes, family adventures and more. Programs on synchronous fireflies, butterflies, wildflowers, mushrooms, old-growth forests, salamanders, stream life, elk, bears, tracking, early settlers, the Cherokee, and so much more! (865) 974-0150.