Winter Road Status

During winter, roads in the park may close due to snow and ice, especially at night when water from melting refreezes on roads. For road status information please call (865) 436-1200 ext. 631 or follow road updates at http://twitter.com/SmokiesRoadsNPS. More »
Elkmont Campground Water

Due to water line construction in the Elkmont Campground, drinking water will not be available in campground sinks. Containers of drinking water will be provided to campers upon check-in. We expect full water service to be restored by March 19.
Mouse Creek Falls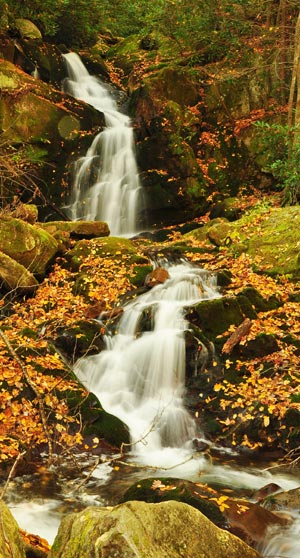 Kent Cave Photo
Big Creek Trail follows an old railroad grade used to haul lumber out of the mountains during the logging boom at the start of the 20th century. At 1.4 miles the trail passes Midnight Hole, a deep, picturesque pool below a 6' falls. At 2.1 miles a short side trail on the left leads to a bench where hikers can rest and view Mouse Creek Falls which is on the far side of Big Creek. The falls are 45' in height.
Access Trail:
Big Creek Trail
Trailhead:
Exit I-40 at Waterville Road (#451). Turn left after crossing the Pigeon River and proceed 2.3 miles to an intersection. Continue straight, past the ranger station, to a large parking area at road's end.

Trail Notes: The 4-mile roundtrip hike to the waterfall is considered moderate in difficulty. It takes about 2-3 hours to hike to the waterfall and back.

Carry drinking water with you. Sturdy hiking shoes are recommended. Pets and bicycles are prohibited on the trail.

Do not climb on rocks around the water. Over the years, several people have fallen to their deaths and many others have suffered serious injuries from climbing on rocks near waterfalls or along the riverbanks. These rocks are slippery due to mist and algae. Closely supervise children at all times. Please read this important water safety information.

Did You Know?

Approximately 1,500 black bears live in the park. This equals a population density of approximately two bears per square mile. Bears can be found throughout the park, but are easiest to spot in open areas such as Cades Cove and Cataloochee Valley. More...